Coaches Need to Win Friends and Influence People
My 37th year of teaching and coaching will be here soon. Sometimes I think have it all figured out. I'm amazingly efficient. I can't remember the last time I brought school work home with me. I teach Chemistry without notes. The complexities of coaching now seem simple.
However, I have so much work to do.
My grandfather was a born to a coal-mining Irish immigrant. John Kane was an intelligent strong-willed product of his times. He became a businessman in Carmi, a small town in Southern Illinois. He made a living selling auto parts. John Kane was an important man in his small town. Memories of my grandfather are some of the strongest memories of my childhood. When my mother told me that my grandfather had taken a Dale Carnegie Course more than a half century ago, I decided to learn more.
Dale Carnegie was born in 1888 and died in 1955. Carnegie wrote the classic book "How to Win Friends and Influence People" in 1936. The title of the book, in and of itself, is an all-time classic. The book has sold 30 million copies. Time magazine ranked the book #19 "most influential" of all time.
I had this idea, maybe I should take the Dale Carnegie Course. The cost, eight sessions for $1995, made me settle for reading the book published 81 years ago.
Before buying a book, I always do some research. Life is too short to read a bad book. One review said, "Carnegie emphasizes the use of other's egotistical tendencies to one's advantage." I thought to myself, "Man, that's just like coaching!". In coaching we are constantly dealing with egos.
Before you paint Dale Carnegie as a con man, the next sentence by this reviewer should be noted, "Carnegie maintained that success could be found by charm, appreciation, and personality." I thought to myself, "Man, three things I never associate with coaches are charm, appreciation, and personality." 
But, on the other hand, when I list the most influential people in my life, almost all of them were coaches. What made those coaches bigger than life? They inspired. They encouraged. They made me feel significant and important. They were Dale Carnegie people.
We've all known the other type of coach. We've all known the stereotypical tyrannical horse's ass.
Many coaches have been taught to be leaders in military sense. Privates never question command. Coaches give orders, not suggestions. "My way or the highway!" HBO mob boss Tony Soprano summed up the modus operandi of many coaches when he said, "You may not love me and that's too fucking bad 'cause you don't have to love me, but you will respect me".
Too many coaches repeat the sins of their predecessors. Charm, appreciation, and personality are considered soft, if not feminine. Leo Durocher described coaches with four simple words, "Nice guys finish last".
TEN THINGS COACHES CAN LEARN FROM DALE CARNEGIE
#1  We are what we do. Bernard Shaw once remarked: "If you teach a man anything, he will never learn." Shaw was right. Learning is an active process. Coaches can't be taught to be better people, they must learn by doing. When working with kids, we can't just tell them what to do. We must allow them to be active learners and own their work.
#2  Let them do the hunting. "There is only one way under high heaven to get anybody to do anything. Did you ever stop to think of that? Yes, just one way. And that is by making the other person want to do it." Every great coach I've ever known understood intrinsic motivation. I have one quote sitting on my desk at school: "Education is not the filling of a pail, but the lighting of a fire." – W.B. Yeats. The quote reminds me not to feed my students and athletes. Instead, I encourage them to hunt. You don't feed the bears at Yellowstone because, if you do, they will lose their ability to feed themselves.
#3  Feelings matter. William James said: "The deepest principle in human nature is the craving to be appreciated." Coaches should memorize the following from Charles Schwab,"I consider my ability to arouse enthusiasm among my people, the greatest asset I possess, and the way to develop the best that is in a person is by appreciation and encouragement." 
#4 Criticism will get you nowhere. "If you and I want to stir up a resentment tomorrow that may rankle across the decades and endure until death, just let us indulge in a little stinging criticism—no matter how certain we are that it is justified." Harsh words cut deep, especially when working with kids. "Any fool can criticize, condemn, and complain, and most fools do. But it takes character and self-control to be understanding and forgiving. Let's realize that the person we are going to correct and condemn will probably justify himself or herself, and condemn us in return". Understanding others will never be easy. When Mary Todd Lincoln and others spoke harshly of the southern people, Abe Lincoln replied: "Don't criticize them; they are just what we would be under similar circumstances."
#5 Smile. "It costs nothing but creates much. It enriches those who receive without impoverishing those who give. It happens in a flash and the memory of it sometimes lasts forever. None are so rich they can get along without it." Why don't coaches smile more?
#6 Learn names. Franklin D. Roosevelt believed that one of the simplest, most obvious, and most important ways of gaining good will was by remembering names and making people feel important. I'm both good and bad at names. Of the nearly 200 athletes I coached last year, I was 100%. Something about recording speed times on my clipboard makes me remember names (and their associated times). I'm not as good with my classes (175 students last year). I pass fellow teachers in the hallway and just say "hi" or "what's up" because I flat out don't know their names. I don't get out of my classroom much.
This year, I'm going to try something new. Napoleon the Third, Emperor of France and nephew of the great Napoleon Bonaparte, boasted that in spite of all his royal duties he could remember the name of every person he met. His technique? Simple. If he didn't hear the name distinctly, he said, "So sorry. I didn't get the name clearly." Then, if it was an unusual name, he would say, "How is it spelled?" During the conversation, he took the trouble to repeat the name several times, and tried to associate it in his mind with the person's features, expression and general appearance. If the person was someone of importance, Napoleon went to even further pains. As soon as His Royal Highness was alone, he wrote the name down on a piece of paper, looked at it, concentrated on it, fixed it securely in his mind, and then tore up the paper. In this way, he gained an eye impression of the name as well as an ear impression.
#7 The Golden Rule. My wife once called me a "praise whore". I don't think she meant it in a good way. However, she was right. I am human. I'm motivated when people think I do good work. History is replete with striking illustrations of the sheer witchery of praise. As Charles Schwab put it, "Everyone wants their friends and associates to be hearty in their approbation and lavish in their praise." So let's obey the Golden Rule, and give unto others what we would have others give unto us. How? When? Where? The answer is: All the time, everywhere. For the coach, this means giving encouragement. How? When? Where? The answer is: All the time, everywhere.
#8 Conflict Resolution. Listen first. Give your opponents a chance to talk. Let them finish. Do not resist, defend or debate. This only raises barriers. Try to build bridges of understanding. Don't build higher barriers of misunderstanding. Be honest. Look for areas where you can admit error and say so. Apologize for your mistakes. It will help disarm your opponents and reduce defensiveness. Look for areas of agreement. When you have heard your opponents out, dwell first on the points and areas on which you agree. You don't have to win.
#9 Inspire. Coaches are often the most inspirational people in the world. Every coach can tell stories of kids transformed. Every athlete can tell stories of being transformed by a coach. Belief is a powerful drug.
#10 Love and Appreciation. This is my favorite story from the book. I don't know why, it just is.
A man taking a Carnegie Course told a story about a request made by his wife. She and group of other women in her church were involved in a self-improvement program. She asked her husband to help her by listing six things he believed she could do to help her become a better wife. He reported to others taking the course: "I was surprised by such a request. Frankly, it would have been easy for me to list six things I would like to change about her – my heavens, she could have listed a thousand things she would like to change about me – but I didn't. I said to her, 'Let me think about it and give you an answer in the morning.' 
"The next morning I got up very early and called the florist and had them send six red roses to my wife with a note saying: 'I can't think of six things I would like to change about you. I love you the way you are.'"
"When I arrived at home that evening, who do you think greeted me at the door? That's right. My wife! She was almost in tears. Needless to say, I was extremely glad I had not criticized her as she had requested."
"At church the next Sunday, several women came up to me and said 'That was the most considerate thing I've ever heard.' It was then I realized the power of appreciation."
+++
I don't expect football coaches to start sending roses to their athletes. Coaching will always involve constructive criticism. Errors and mistakes will never be rewarded with rainbows and butterflies.
However, Dale Carnegie lays down the gauntlet for all of us. Coaches who learn to use their players' egotistical tendencies to his advantage will be more successful than those who don't. High performance may rely on a coach learning to use charm, appreciation, and personality.
+++
Please share this article with coaches you know. And if you think about it, Dale Carnegie's ideas are important for teachers, parents, businessmen, and our children.
+++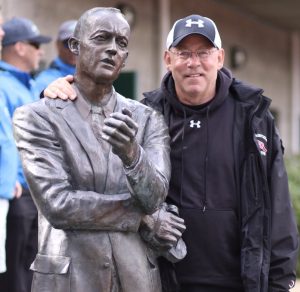 Tony Holler has taught Chemistry and coached track for 36 years at three different high schools, Harrisburg (IL), Franklin (TN), and Plainfield North (IL). Inducted into the ITCCCA Hall of Fame in 2015, Holler's teams have continued to feature great sprinters. Along with Chris Korfist, Holler co-directs the Track Football Consortium held twice a year (June and December). Holler has written over 100 articles promoting the sport of track and field and sharing everything he knows. His articles can be found at ITCCCA.com, FreelapUSA.com, and SimpliFaster.com. You can follow Coach Holler on Twitter @pntrack and email him at tony.holler@yahoo.com.