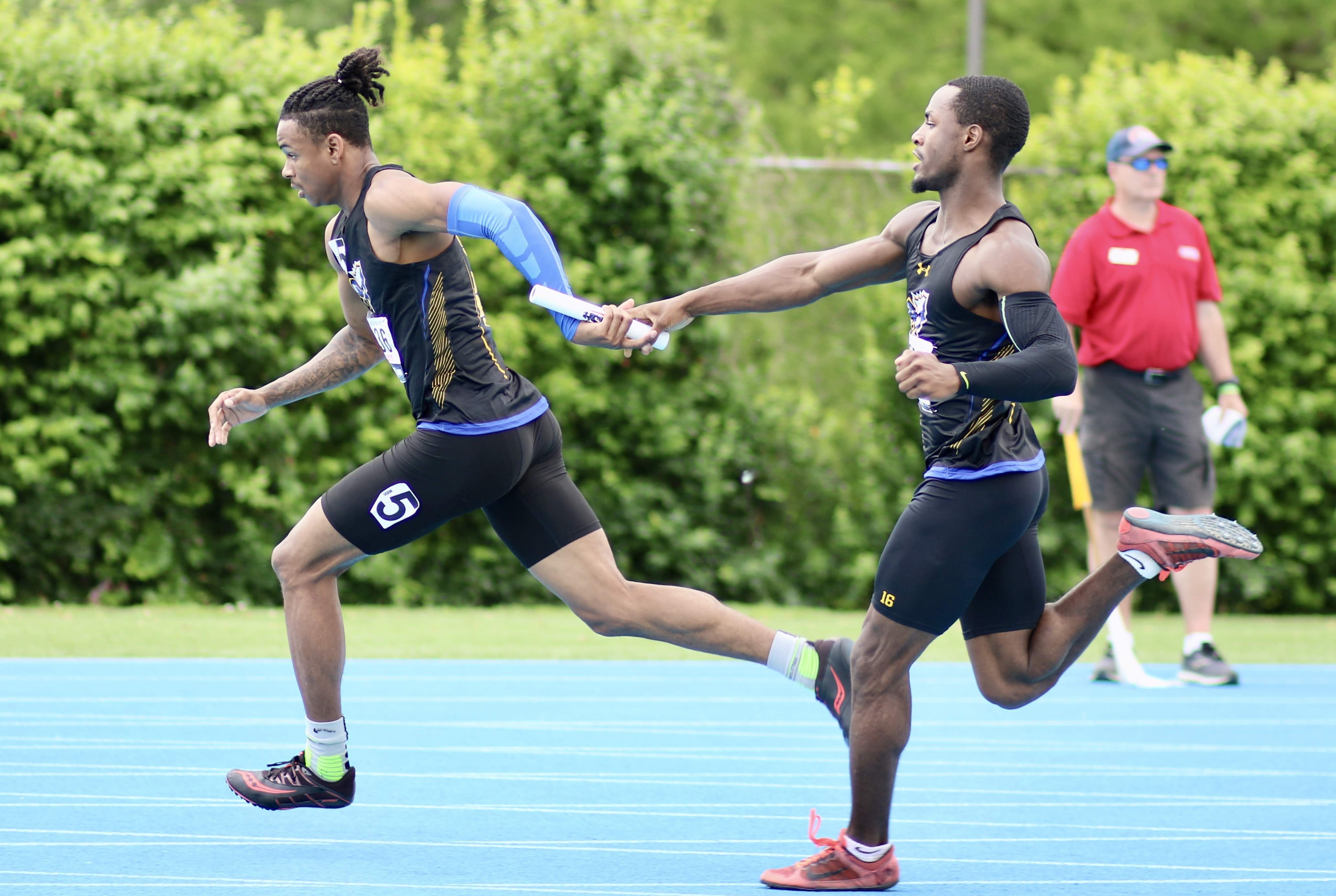 Through My Lens 2019
By Tony Holler
This is my 6th "Through My Lens".
Disclaimer… I'm just a track coach who takes pictures and likes to write. There's not a single mention of the field events in this article. I missed the 3200 meter runs because I was doing RPR on Marcellus. This is not a *balanced* report on the 2019 IHSA State Meet. There's no attempt in this article to tell every story. This is just stuff "through my lens". Friends, family members, Plainfield North athletes, and others who are "in the network" have a better chance to make this article than those who are strangers. If you want to improve your connections, attend the Track Football Consortium on June 21-22. Have breakfast with a coach who likes to talk. Most coaches like breakfast and beer (not at the same time). Get connected on Twitter, reach out. Life is a team sport.
If I upset anyone, get over it.
#SpeedKills
State Championships are won by sprint teams. Even though the sprints and hurdles make up only 44% of the 18 events, the three state championship teams scored 86% of their points in those 8 events. Those three championship teams scored less than 2% of their points from the four distance events. Think about it, even if you adjusted for the eight sprint events compared to four distance events, the spread would be 86 to 4.
Salt Fork, East St. Louis, and Crete…
8 sprint events – 158 points
4 distance events – 3 points
Tell me more!
Lets look at all nine trophy-winning teams.
8 sprint events – 307 points
4 distance events – 20 points
The nine trophy-winning teams scored 72% of their points in the sprints and less than 5% from the distance events.
If you include the cat-like long jump, triple jump, and high jump, the percentage of points jumps to 86% among trophy teams (93% for the three state champions).
Distance events have a cost. The endurance nature of the 800, 1600, and 3200 does not lend itself well to scoring multiple times. (That's why distance runners get their own sport in the fall!) Finnigan Schirmer scored 36 points all by himself. It's mathematically impossible for a  distance runner to score 36 points. Even if a distance guy could do the impossible by running (and winning) the 4×8, 800, 1600, and 3200, that runner has only scored 32.5 points.
Since 1998, I've had the opinion that to compete at the state level, it's best to do it with sprinters and jumpers.
(Random fact: none of the nine trophy-winning teams scored in the pole vault.)
Where in the Hell is Salt Fork?
Salt Fork is a recently consolidated school (Jamaica and Catlin). The school is in Catlin, east of Champaign, near Danville. Salt Fork won the Class 1A state championship behind their star hurdler, Caine Wilson.
Caine Wilson placed 3rd in the 110 highs, 2nd in the 300 intermediates (39.19), ran anchor on Salt Fork's 6th-place 4×1, and then ran the race of his life to place 2nd in the 200.
Before the 200, Salt Fork's coach Phil Surprenant told Caine Wilson that he needed to place 7th or better to for Salt Fork to win the state championship. Wilson left to run his race. Upon further review, Coach Surprenant realized he had mistakenly awarded his discus thrower (161'7″) six points for sixth place and should have been four. In a panic, Phil Surprenant found Caine Wilson and told him, "I was wrong, you need to get at least 5th!" Even though, Caine Wilson was seeded 6th in the race with a bad lane (lane-2), Caine Wilson reassured his coach, "We got this."
Caine Wilson was prophetic, running by far his lifetime best in the 200, 21.83 (previous PR 22.15). In addition, Wilson ran this with only one event separating the 300 hurdles and the 200. Wilson placed second in the 200, giving Salt Fork their first state championship. Wilson will run at Indiana State.
Another interesting guy from Salt Fork was Dawson Rogers who placed 7th despite a lingering hamstring injury. Rogers had hoped for so much more. Check out the progression of Dawson Rogers in the 800…
Freshman 2:21.61
Sophomore 2:13.06
Junior 1:56.56 (5th in state)
Somebody is doing something right!
By the way, Caine Wilson also saw steady improvement in the 300 hurdlers in his four-year career, 42.31 – 40.86 – 38.83 – 38.69. (I love progressions!)
Hard to imagine a track team of 17 athletes and two coaches winning a state title. For perspective, Neuqua Valley had 163 on their roster. Neuqua Valley had more boys on their track roster than Salt Fork had in their entire school. Despite only 17 guys on the team, Salt Fork qualified 9 athletes in 11 events and scored 40 points at the state meet. Three of their nine qualifiers played baseball too. I repeat, three track stars played on Salt Fork's baseball team!
Coach Surprenant went all-in with Feed the Cats this year. Seems to have worked pretty well.
Eureka!
Brett Charlton and I have been friends for more than 20 years. Brett is one of those guys who grows where he's planted, living in Eureka all his life. Brett Charlton has quietly won eleven state trophies, two in track, nine in cross country. Six of those trophies were state championships (one track, five cross country).
Eureka has been a Class A powerhouse for many years. Hard to believe that a school of 517 students must go head-to-head with East St. Louis. The IHSA class system is crazy. (By the way, many insiders question the reported enrollment of East St. Louis.)
This may surprise some people, but Brett Charlton believes the move to 2A has made his team better.
How good?
Holy shit!
How about a school of 517 kids running 3:18.52 with two sophomores!
Micah Senior is one of those sophomores. In the anchor leg against the all-star team from East St. Louis, Micah Senior ran 48.2, the fastest split in the storied history of Eureka track. The other sophomore, Aden Sears ran the two-leg at 49.7. The only senior on the team, Connor Standish, was the slow guy and couldn't break 50 (but 50.0 is not too bad). The big story was the lead-off runner.
Eli Steinbeck (senior) was a star all year. At Sectional, Steinbeck ran a 2:00 split in the 4×8, qualifying in the open-400 at 51.08, and leading off the 4×4 at 50.0. In the state prelims, Steinbeck ran 2:01 in the 4×8 helping Eureka to qualify for the finals the next day. Charlton scratched Steinbeck from the 400 to maximize the 4×4. However, Steinbeck ran 51.5 in the leadoff leg and got passed by four guys late in the race. This is where it gets crazy.
Great track coaches teach their kids that relays are a team of eight, not a team of four. Just because you run at sectional and at the state prelims doesn't guarantee that you will run in the finals. Most coaches would be afraid to substitute in the finals. They would rather play politics and be liked than to make the hard decision and go for a state championship. Brett Charlton made the hard choice. The substitute was a junior sprinter named Job Knapp (ran 22.50 in 200 at Sectional). The decision paid off with Knapp running an incredible 49.5 in the leadoff spot. Eli Steinbeck became an all-stater in the 4×8 as Eureka finished 8th.
East St. Louis won the 2A 4×4, running 3:18.13, Eureka won silver running 3:18.52. Those two times would have placed first and second in 3A.
If three underclassmen from small-town America running 48.2, 49.5, and 49.7 isn't the best story of the 2019 IHSA State Track Meet, what is?
Well maybe the best story is another Eureka kid, Trevor Heffren.
Trevor Heffren is a 6'1″ freshman who played basketball. He continued to play basketball during the spring (don't get me started on AAU). Trevor high jumped 6'9″ and won the 2A state championship. His season PR was 6'6″. Heffren was the 8th grade state champ at the IESA track meet. (Wonder why Plainfield refuses to join the IESA?) Anyway, Heffren jumped 6'0″ as an eighth grader. Oh, one more thing, Heffren may be the missing piece for Eureka in next year's 4×4. Trevor Heffren split 53.0 in the 4×4.
Crete-Monee: Fastest Team in Illinois History
Crete-Monee assembled the best group of sprinters and jumpers that Illinois has ever seen. Freaky.
Crete's indoor season gave us some foreshadowing.
♦  Jamal Safo 23'1″ in long jump
♦  Jamal Safo 6.91 in 60m
♦  Victor Cameron 7.82 in 60HH
♦  Ricky Johnson 50.74 in 400
♦  Elantae Humphrey 1:59.03 in 800
♦  4×2 relay – state record 1:29.13
♦  4×4 relay – state record 3:21.06
When Jamal Safo long jumped 25'0″ at Sectional, I had a feeling this would be *The Year of the Warrior*.
Brian O'Donnell is a breakfast friend of mine. We meet often at Plainfield Delight. We first connected when I used Neil Young's "Field of Opportunity" to close Though My Lens 2014. It's one heck of a lyric… "In the field of opportunity it's plowin' time again, there ain't no way of tellin' where these seeds will rise or when." Like breakfast with Korfist, Brian and I are always late to getting around to talking business. I recently read the Neil Young biography, "Shaky", on the strong recommendation of Brian. On the day of the incredible Bloom Sectional, I sent Brian a three word text: "DON'T BE DENIED" (which happens to be one of Brian's favorite Neil Young songs). The day after the state meet, Brian sent me a three word message, "We weren't denied."
Brian O'Donnell is a distance coach that figured out how to coach sprinters. Brian stayed true to Feed the Cats this year, with his sprinters never running more than 200 meters in practice. High velocity training using Freelap was at the core of the plan. Brian added, "Healthiest and fastest we've ever been, by far."
One of the important things that Brian O'Donnell added this season was an overnight trip. Brian took his team to the Winston Brown Invite in Edwardsville. His team stayed at the Troy Super 8, alongside my team. Great teams get out of their comfort zone and get out of their neighborhood.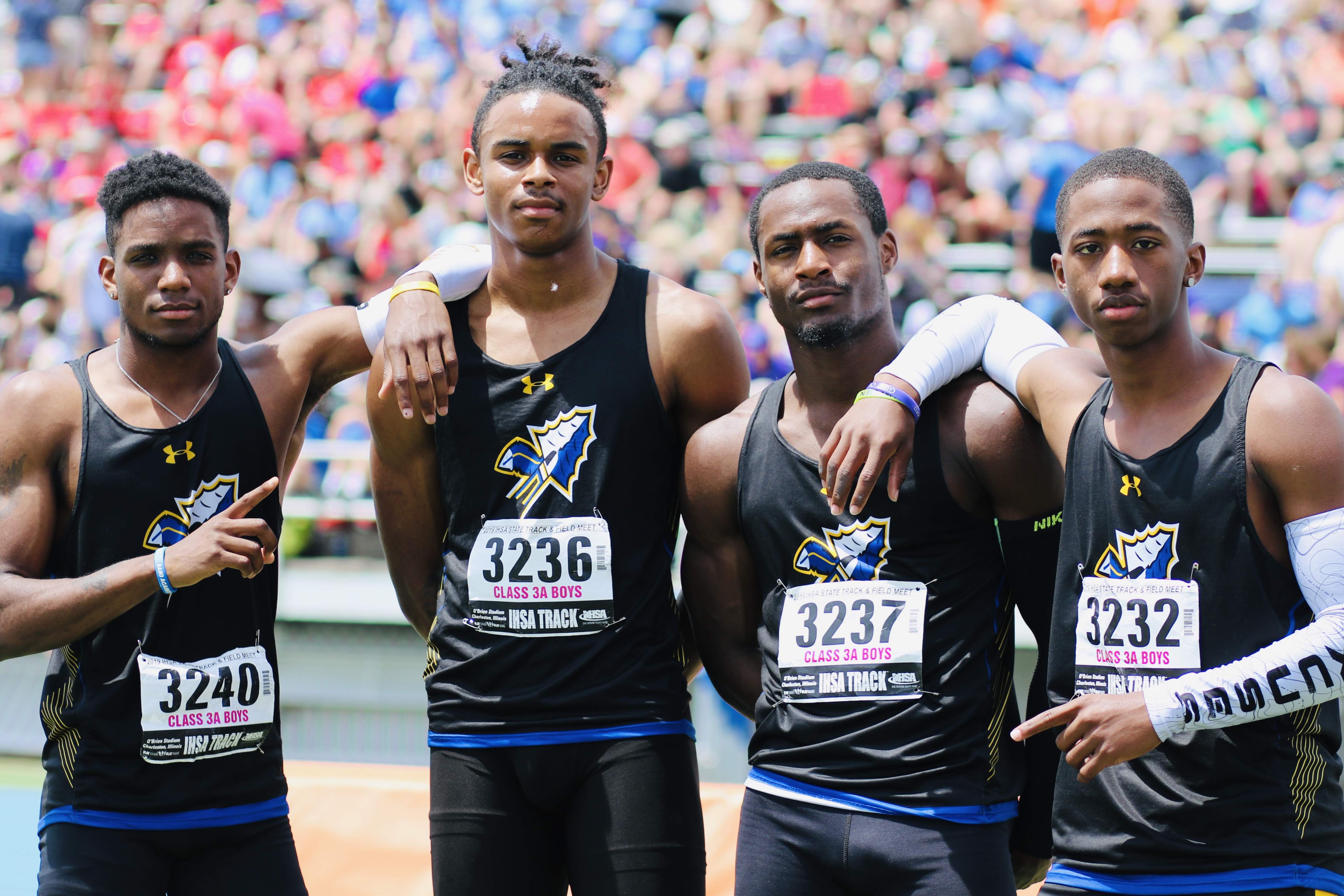 Jamal Safo, Ricky Johnson, Kavon Jones, Victor Cameron
Here are some things you might not know about Crete-Monee (from Coach O'Donnell)…
♦  Crete now has 5 total IHSA trophies. 3 football (state champs in '12, Runner-up in '15 and '18) 1 bowling (3rd place 1994?), and 2019 Track and Field. Our school does not have a rich history in athletics.
♦  Of the 41 total All-State boys track performances in the history of Crete, there are five All-State performances in our school's history that I did not witness as an assistant or head coach. We do not have a rich history on the boy's side. (In other words, 36 of Crete's state placers have happened in Coach O'Donnell's 18 years at the school). 
♦  Our 4×100 school record going into this season was 42.32. We broke that on April 6th (our first outdoor meet) and the record would be improved 4 additional times this season. (Broke school record in 4×1 record FIVE TIMES and eventually broke the Plainfield North 3A state record when they ran *40.84* in the prelims.)
♦  Our 4×100 included three major contributors from our varsity football team… Ricky Johnson, Jamal Safo, Kavon Jones. (Head football coach John Konnecki and assistant Matt Slusher are both TFC guys!)
♦  Ricky Johnson, rookie senior, ran five total open 400 meter races this season including the two in Charleston. Progression: 50.74 (indoors), 49.40 (April 6), 48.38 (May 15), 48.32 (May 24), 48.33 (May 25). Ricky set three individual school records in his first and only season (indoor 400, outdoor 200 and 400) and was part of three school relay records (indoor 4×2 and 4×4, and 4×100). Most coachable athlete I've ever had.
♦  Jamal Safo was the most notorious athlete that has ever entered our program. Jamal set the IESA 110 hurdle record as an 8th grader. During his freshman year he ran on our 4×4 at Top Times and ran us back into the race. Safo qualified for state in three events as a sophomore (placed in LJ). Injured his hamstring severely a week before conference in his junior year. We pulled him from all other events and he qualified for state in the LJ on his sixth and final attempt. Placed 5th the next weekend in Charleston. The most versatile track athlete I have ever coached. Jamal Safo could have been a State qualifier in 10 different events (100, 200, 400, LJ, TJ, 110, 300, and three sprint relays). State champ in the long jump. Willingly accepted running in all three sprint relays rather than chase individual glory. Great teammate.
♦  Victor Cameron: Lost only one high hurdle hurdle race all season. His only loss was in the 55m highs to eventual 3A runner-up JT Lowder. Victor is unbelievably headstrong. Victor Cameron was probably our slowest sprinter during his freshman year with a indoor 200 meter time of 28.05. Speed deficits aside, Victor was a natural hurdler and his four year progression was 16.13, 14.80, 14.10, 13.86.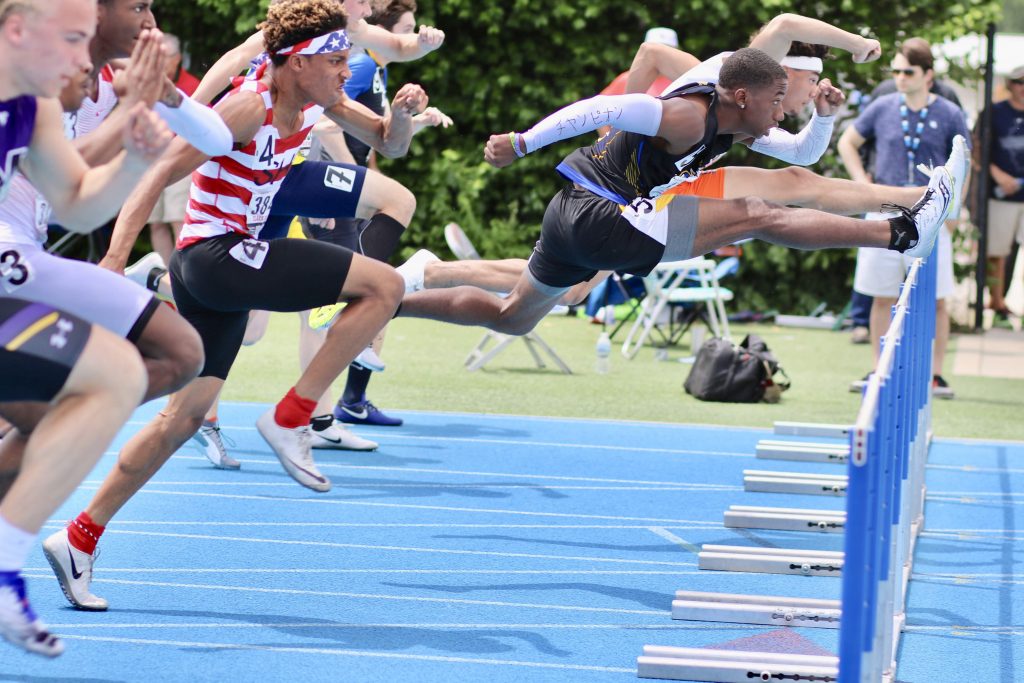 Victor Cameron
Neuqua Valley – What Could Have Been
"The stories decide championships more than the people do." – Mike Kennedy, Neuqua Valley
Neuqua Valley had a storybook season in 2018 that culminated in a glorious state championship. (Note – when the planets line up and the gods of fate smile, be wary of the oncoming chaos. In chemistry we call it entropy, the idea that nature favors disorder. In nature, it takes great energy to build and assemble, like pushing a heavy boulder up a hill. To fall apart is a downhill process, it's natural.)
Exactly one year ago, I was having dinner at one of my favorite places, a neighborhood Italian place called Traversos in Naperville. At the booth next to us sat a group of track coaches from Neuqua. I was told then by Coach Vandersteen and Coach Kennedy that Zach Kinne had moved to Pennsylvania. The news had been a total shock to the coaches. Kinne had placed second in the 3200 as a junior running 9:03.55, scoring eight critical points for his team. Kinne had a good year at North Allegheny High School running 4:14.82 in the 1600, 9:01.94 in the 3200 (state champ in the 3200). Ouch.
Kennedy also laments losing Rodrigo Alvarez after his freshman year at Neuqua running 9:48 in the 3200. Alvarez, now a junior, is a star distance runner in Mexico, running 14:58 in the 5000. Ouch.
But hey, Neuqua had a star hurdler returning. Donovan Turner, as a junior, won silver in the 110 highs running 14.20. He also placed 6th in the 300s, and anchored Neuqua's bronze medal 4×4 team (3:21.04). Well, Donovan had a big indoor season traveling to Arkansas, Kentucky, and New Balance Nationals in New York City. Everything looked great until he injured his hamstring on April 3rd. At the DVC conference meet, Turner ran in the slow heat of both hurdles with his seed time being "NT" (no time). Turner won both races from the slow heat but his times were nowhere near his 2018 marks. At the state meet, Turner scored only three points in his three events (compared to 22 points in 2018). Ouch.
Mike Kennedy documented 25 more "weird" happenings with his team. (Nature favors disorder!)
Before you feel too sorry for the men of Neuqua, let's remember that Neuqua still placed 6th in the state. 13 of their 23 team points came from Matt Appel (junior) in the throws. (Congrats Coach Ricca!)
First Year Sprinter + First Year Coach = State Champ
Will Shalter graduated from the University of Illinois and then followed his wife (Fullbright Scholar) to Vienna, Austria, for two years. Eventually Will found himself raising a family and teaching at Pana. Many years went by. In 2018, Pana needed an assistant middle school track coach. Since Will had been a distance runner in his high school days in Ottawa, he accepted the challenge. When the high school track job opened for the 2019 season, Will Shalter, again, answered the bell. Yes, at age-37, Will Shalter has coached one year at the junior high level and one year at the high school level.
Coach Shalter, inherited a very good runner named Jared Beyers who will run at Greenville next year. Going into his senior year, Beyers worked to get a few more guys out for track. Two kids who had played baseball as freshmen and sophomores decided to give track a try. Cameron Owens and Bryce Edmiston joined the team.
Cody Klein had been a good wide receiver for Pana's football team. When his senior season was over, Cody's mom encouraged him to try track. Cody Klein did not come to the team meeting to start the season but he showed up on the first day of practice. Klein was entered with a "NT" at the Eastern Indoor Meet. Klein ran in the slowest heat but ran fast enough to qualify for Top Times, where he won silver in the 60 meters. Cody Klein never lost another race.
Cody Klein's grandfather played alongside Alex Karras at the University of Iowa before playing six years in the NFL from 1958-1964. Dick Klein was and offensive lineman, 6'4″, 254.
Cody Klein may have grown up in a football family, but one year of track may have transformed him into a track guy. Eastern Illinois and Nebraska are recruiting him with vigor.
In a phone conversation, Cody shared this, "If you want to see great athletes, you go to track meets."  Amen!
The 4×1 of Edmiston, Beyers, Owens, and Klein would break Pana's school record in the 4×1 and win Class 1A silver at the state meet running 42.85. Remember, Edmiston, Owens, and Klein were all three rookies.
Coach Shalter's team broke six school records including the pole vault (Wes Kyle, 14'5″), 100 (Klein), 200 (Klein), 400 (Beyers), 4×1 (42.85), and 4×2 (1:29.89).
Cody Klein
Cody Klein in his first year of high school track, won the Class 1A state championship in the 100 (10.85) and 200 (21.57). Pana placed second in Class 1A.
So wait a minute. Me… "So, Coach Shalter,  you are telling me that in your first year of coaching high school track, your first-year sprinter won two gold medals and your team placed second in the state?" Coach Shalter… "Yep,"  Me… "You are so screwed." (See Neuqua Valley… entropy is a bitch.)
Seriously… if this is not the top story of the 2019 state track meet, what is?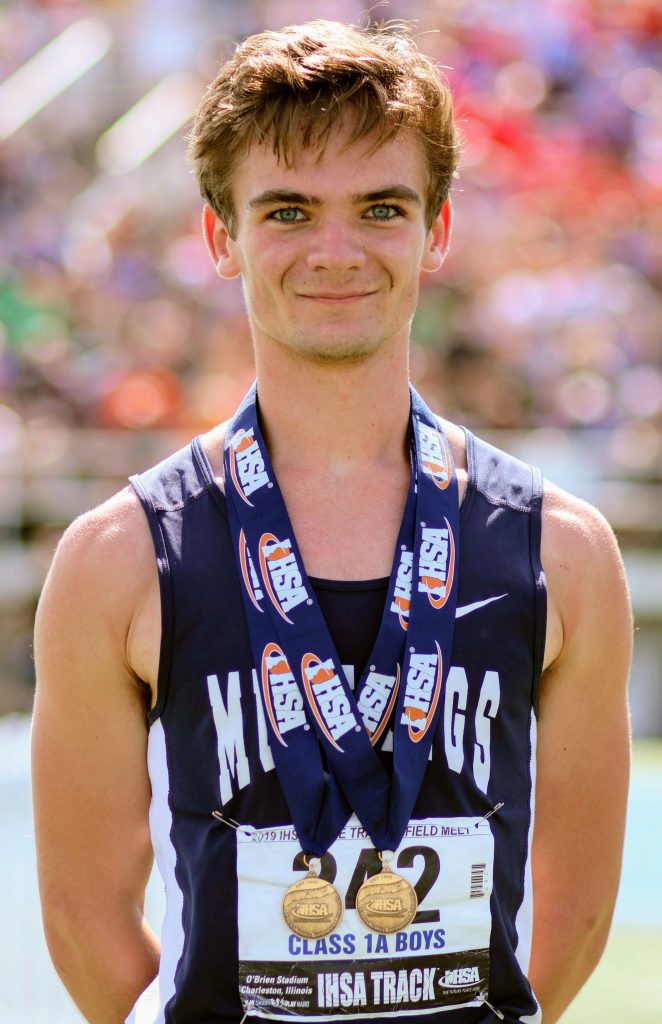 Mason Barr
Mason Barr is headed to the University of Illinois. There's nothing in Mason Barr's appearance that would suggest greatness. That's the thing about track, performance is not rated by judges, it's measured.
Mason Barr's four-year 110 high hurdle progression: 15.70, 15.09, 14.54, 13.94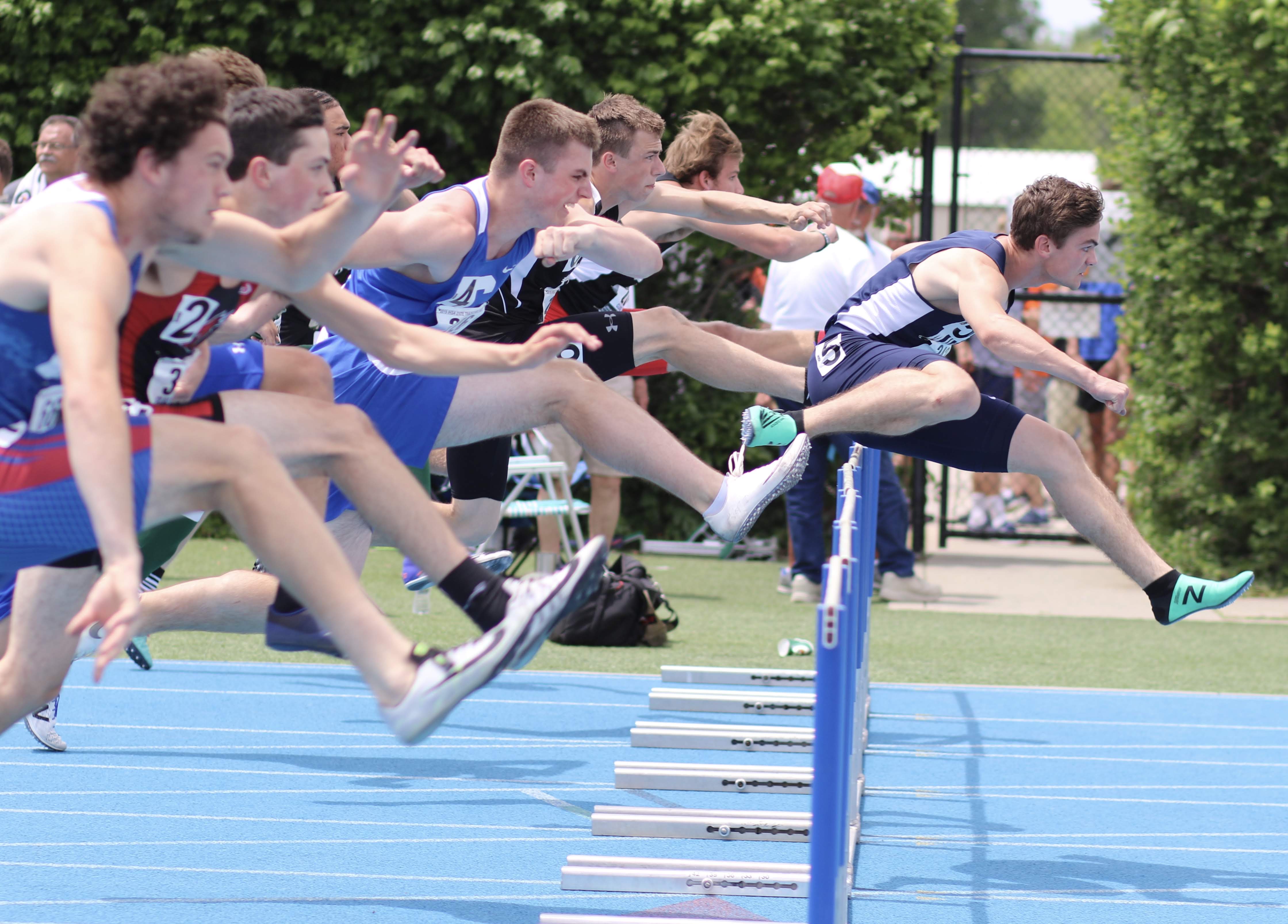 Mason Barr at the second hurdle of the 110 highs
Mason Barr's four-year 300 intermediate hurdle progression: 40.30, 38.32, 38.33, 37.70
When I look at these numbers, I see excellence at every stage of Barr's development. 15.70 and 40.30 as a freshman indicates a future star. The other thing I noticed, why didn't Mason Barr improve in the 300 INT as a junior? Well, maybe it's because he didn't get to run the 300s at the 2018 state meet. The story? Mason Barr was warming up in the field house and when he reported to the tent, the other hurdlers had already been released. Mason was still issued a hip number and went to the starting line. His race was coming up next. An IHSA official sent him back to the tent, denying Mason Barr a chance to run. The race would not have been delayed. Good Lord. What's wrong with these people?
Neuqua Valley was not the only hard-luck returning team champs. Mason Barr's Colfax-Ridgeview team scored 50 points to win Class 1A last year. They returned their two superstars, Mason Barr and Tate Walcott.
Tate Walcott long jumped 24'0.25″ last year (at the time US #8). ISU-bound Tate Walcott is also fast with personal records of 10.74 and 22.12. Walcott's season ended when he suffered a broken fibula at the Watseka Sectional. (Are you sensing a theme here? Entropy!)
I Waited 365 Days for this Picture
I led off my 2018 Through My Lens with arguably the best picture I've ever taken. The stealthy Dylan Jacobs had chased down an unsuspecting Andrew O'Keefe. As O'Keefe celebrated, Jacobs out-leaned him for the incredible come-from-behind win. I immediately sent the pic via WiFi from my Canon 7d Mark II to my iPhone 10s and tweeted it to the world. Track coaches everywhere piled on. Finish the race! Don't celebrate until the race is over! Blah, blah, blah. I defended O'Keefe. I wrote in my 2018 article, "Next year, when you win, celebrate like crazy."
Andrew took my advice and celebrated like crazy. One of the longest and best celebrations I've ever seen.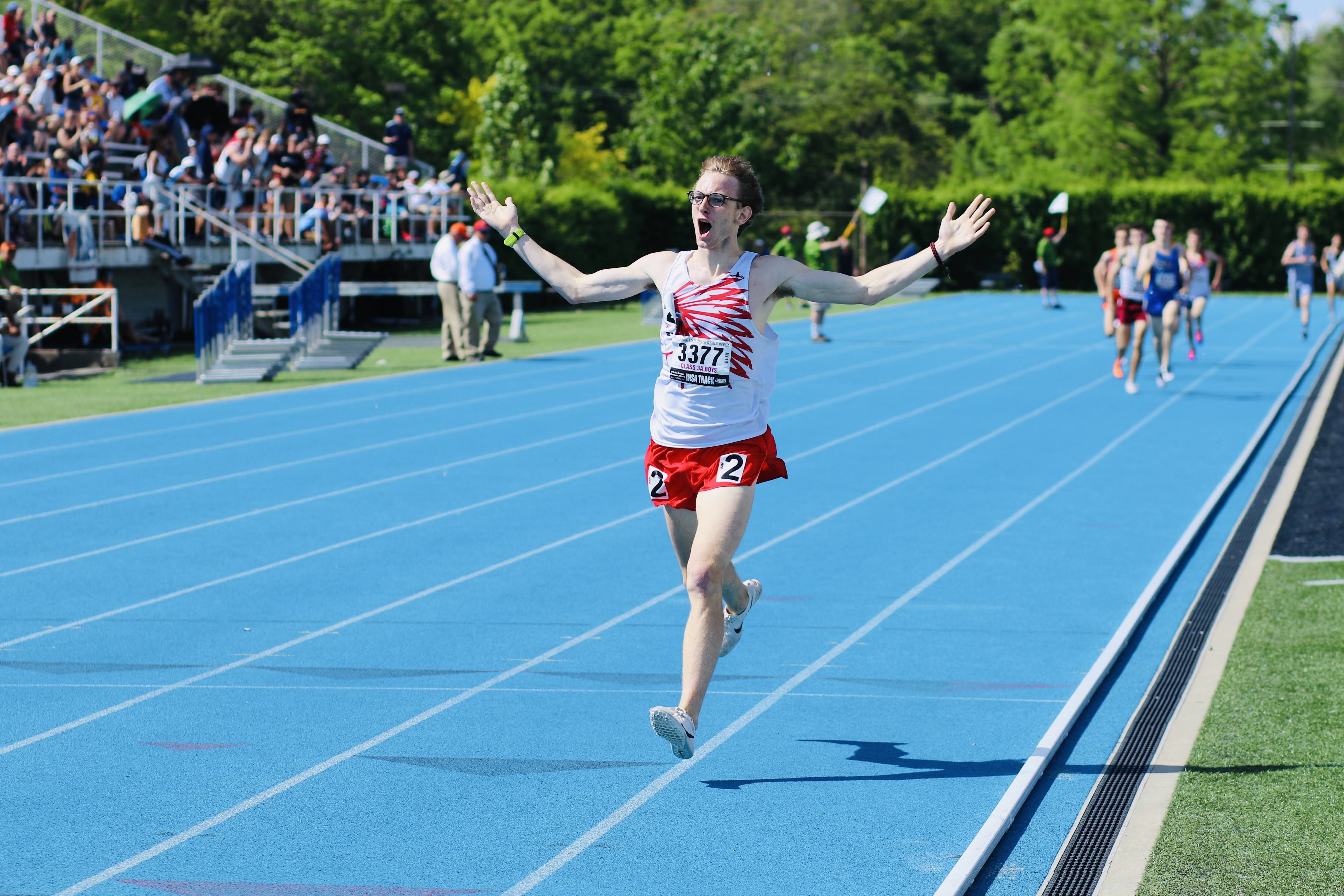 Last year, same camera, same spot…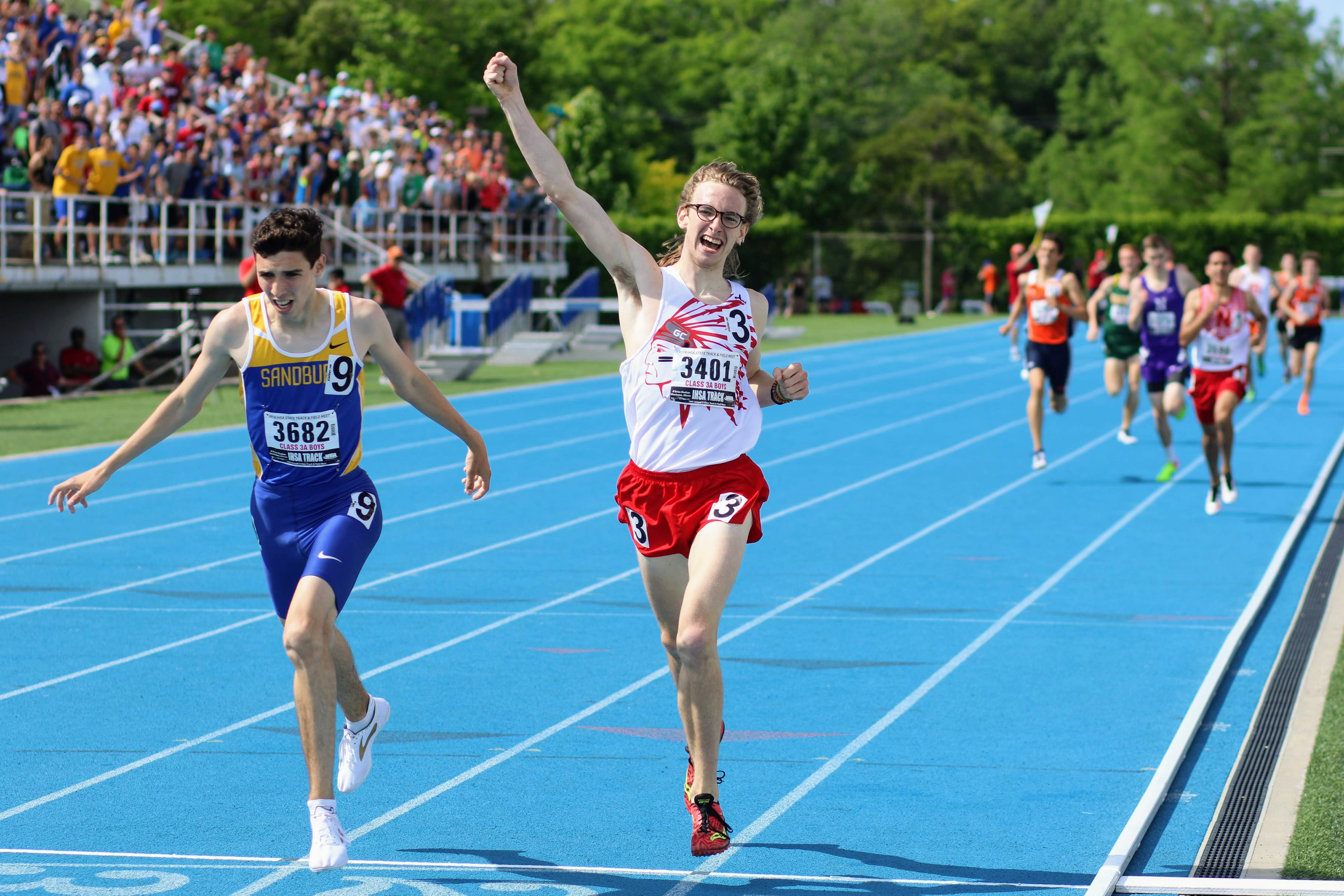 Andrew O'Keefe's progression…
8th Grade 4:40
Freshman 4:27
Sophomore 4:19
Junior 4:11.68
Senior 4:08.98
Granite City's coach, Tom Miller, about his star distance guy… "One of the neat things about Andrew is how he handles things when they don't go as planned and how he looks at the positives and adapts. In his junior year of cross country he was sitting in 9th place at state at the two mile and fell back to almost 100th place before the finish. He was running with mono and didn't know it yet. Last fall he had something similar happen at sectionals and didn't qualify for state. Andrew had an iron count of 8.  I've never heard him complain! Last year at state he hugged Dylan Jacobs to congratulate him on the win."
Coach Rolando
Jim Rolando shocked the coaching world last year when he resigned as head coach at Huntley. The combination of the job getting too big (hosting multiple meets) and the poor health of his father (died recently) caused Jim Rolando to step back from the job as head coach. He quickly resurfaced as the sprint coach at Dundee-Crown.
I know Coach Rolando because he's "in the network". Jim read an article I wrote five years ago about Douglas Heel and attended an Activation Seminar. From there, Jim got introduced to Korfist, me, and Feed the Cats. Once you are "in the network", you become "one of us". In the past five years, Jim Rolando's teams have been very fast.
♦  In five years, Rolando's coached 18 all-state sprinters (only five of those were sectional qualifiers as individuals)
♦  FIVE consecutive 4×1 teams have won medals at the state meet
♦  4×1 average best time in last five seasons… 41.996 (42.06, 41.91, 42.10, 41.79, 42.12)
The amazing thing here is that Huntley and Dundee-Crown do not have rich histories of sprint excellence. Huntley H.S. was built in 1997 to house 300 students. It now houses 3000. Huntley did not win it's first state medal in the sprints until 2015 and they never looked back. The schools of Dundee, Crown, and now Dundee-Crown had NEVER WON A STATE MEDAL IN THE SPRINTS. Enter the amazing Rolando.
This year, despite having combined-best individual times in the 100 adding up to 45.34, Dundee-Crown ran 42.12 in the 4×1. Here's their progression…
April 20… 42.88
April 26… 42.58
May 10….. 42.45
May 16….. 42.25
May 24….. 42.12
May 25….. 42.20
Despite having combined-best individual times in the 200 adding up to 1:31.42, Dundee-Crown ran 1:27.76 in the 4×2.  Here's their progression…
April 20… 1:30.54
May 3…… 1:29.56
May 10….. 1:28.88
May 16….. 1:28.39
May 24….. 1:28.24
May 25….. 1:27.76
The Bill Clinton quote fits well here, "If you see a turtle sitting on a fence post, it didn't get there by accident."
Jim Rolando is willing to share all he knows. Buy him a cup of coffee and you will get a coaches clinic. You can message Jim through his Twitter feed, @Rolando_Speed 
Be prepared to talk track.
Coach Quinn
Speaking of turtles sitting on a fence post..
I lost an outstanding assistant coach last year. He served as my relay coach from 2015 to 2019. Despite being in his early twenties, he maintained the respect of our athletes at all times. His relationship with the athletes reminded me of a respected big brother. The kids called him "Coach Quinn", because there was already a "Coach Holler" on the staff (me).
During Coach Quinn's five years at Plainfield North, our 4×1 teams ran 42.22, 42.07, 41.72, 41.67, and 41.29, for an average best time of 41.79, best in Illinois. Quinn's tenure at Plainfield North came to an end when he got a job, teaching Biology, at Tinley Park Andrew High School. Ironically Quinn went from a team that had lightning bolts on their uniforms (Pntrack's sacred symbol of speed) to a team whose actual mascot is a Thunderbolt… the Andrew Thunderbolts.
Andrew's head coach, Doug Bozych, had laid the foundations for a big year in 2019. Bringing in a speed guy as his right hand man moved his program to the next level. In the 41-year history of Andrew, there's only been seven all-state track athletes. Only once had Andrew earned all-state status in the 4×1 (2003). This year, Andrew broke the school 4×1 record, running 42.09 when it mattered most, the state prelims. The next day, the Thunderbolts finished fourth in the state losing to only Crete Monee, Homewood-Flossmoor, and Jim Rolando's Dundee-Crown group. Even though Plainfield North was sadly not in the mix this year, I raised both fists in the air celebrating Andrew's remarkable accomplishment. Three of the four sprinters from Andrew return next year (and some damn good jumpers!). The key returner is John Bickel, whose three year progression in the 100 is impressive, 11.46 – 11.13 – 10.76.
Malachi Spells, Luke Watzke, John Bickel, Mychah Spells
Congrats on a great year Coach Bozych and the Holler family appreciates your mentoring of Quinn.
Marcellus
Marcellus Moore, age-16, has reached mononymous status in the track and field world. When someone says "Marcellus", there's no need for his last name. At age-16, Marcellus owns NINE state medals, six of them are gold medals. He also owns the state's 100 meter record (10.31 at the age of 15). If his career ended now, you could still make the argument that Marcellus is the top track and field athlete in Illinois history.
As a freshman and a sophomore, Marcellus was bulletproof. Zero injuries. In two years, Marcellus missed one race (a joint decision at Metea Valley in 2017 to not run the 200 meters into a 40 mph wind). This year was hard. As I've told Marcellus since I first met him, "Trees don't grow all the way to heaven. There's going to be some tough times, some tough years. Don't get too high. Don't get too low."
This year Marcellus attended five high-profile indoor meets… Texas A&M, Arkansas, Kentucky, Iceland, and New Balance Nationals in New York City. The heavy load was best summed up by my son, Alec. "Those meets aren't like high school meets. The stress level at those meets is more like running at a state championship meet." At the Arkansas meet (Jan 12), Marcellus felt unusual tightness in his hamstring at the end of the 200 meters. One month later at Kentucky, he ran indoor PRs of 6.65 and 21.09. At New Balance Nationals in New York City, he felt tightness again. The tightness in NYC was significant. In the following 18 days, Marcellus ran one speed workout, one x-factor workout, and ran in one meet (Top Times) where he won the 60 and the 200, running a Top Times record 6.73 in the 60. During that 18 day period, there were 15 days of no physical activity that I was aware of.
At his first outdoor meet at Belleville West, Marcellus looked better than ever, running 10.36 and 20.89. He also ran down HF in the 4×1 in another other-worldly display of speed.
The next week, Marcellus took the ACT on Saturday morning and like Superman coming out of a phone both, he anchored our 4×4 to an exciting win. The next day Marcellus traveled to St. Louis and attended a football combine, running a 4.35 laser-timed 40, the fastest time recorded.
The following Saturday, Marcellus, once again, showed his cartoon-like speed coming from way behind to beat Andrew (Quinn's team) in the 4×1 at Edwardsville. In our first two 4×1's we had beaten Crete-Monee, Homewood-Flossmoor, and Andrew (the teams that eventually placed first, second, and fourth in the state). However, the dreaded cramp-like tightness showed up again as he crossed the finish line. He was done for the day.
After a visit to Chris Korfist, Marcellus was 100% five days later for the Hunt TrackTown Invite.
At practice two days after the Hunt TrackTown Invite, the tightness returned and this time Marcellus felt a "pop". The level of concern had gone from "it's not injured" to "this may be the end".
Marcellus took 14 days off. It's my understanding that he went to chiropractor who suggested lots of stretching.
In the final 30 days of the season, Marcellus did zero lactate workouts. His plan to win the "Triple Crown" (100-200-400) had to be scrapped. The *Plan-B* was to simply run the 100 and 200 at Sectional. Marcellus showed no sign of ever being injured and easily won both sprints. Fast forward to the state prelims, once again, Marcellus looked great, felt great, and ran super-fast.
In the state finals, Marcellus Moore dominated the 100 meters running 10.39 with only a +0.2 wind. (As a sophomore and a junior, Marcellus never got to run the 100 with strong wind.)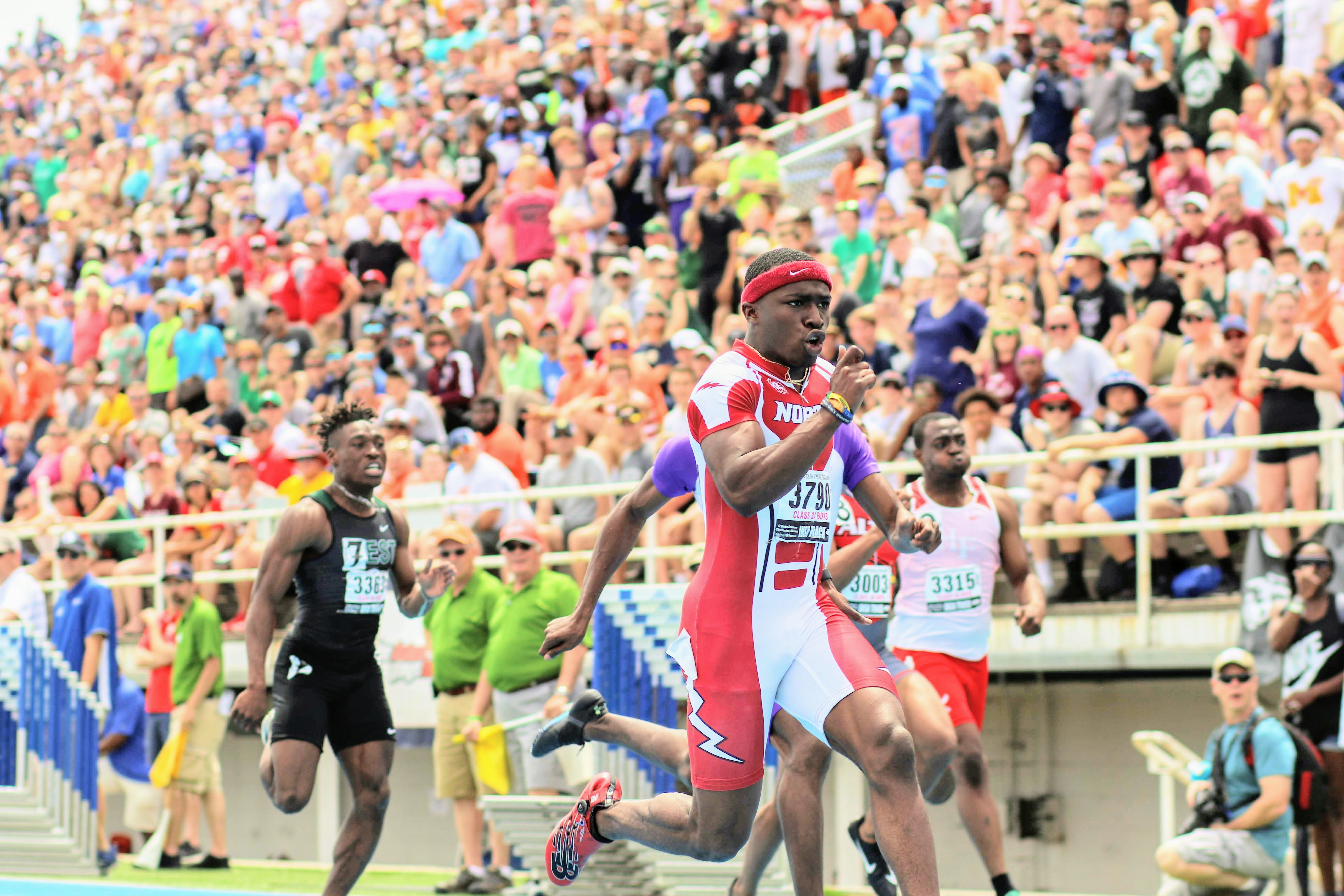 In the 200 meters, Marcellus was on pace to run 20.50 when the tightness returned. His body jerked upward with 70 meters to go. The crowd gasped. Mike Newman was recording the race near the finish line and said, "No… oh no." Marcellus being the ultimate competitor somehow ran the rest of his race with a non-functioning hamstring. He wobbled to the finish line, somehow winning with a time of 21.22. A fitting last race for an ultimate warrior completing a difficult season.
I saw Marcellus practicing football at full speed on Monday, June 10. He looked fast and healthy. As far as I know, he will run at the USATF U20 National Track and Field Championships next week in Miramar, FL. He hopes to win a spot on the USATF U20 national team that competes in Costa Rica July 18-21 (Pan American U20 Championships) . Marcellus is also considering running in the Prefontaine Classic July 30th (this year being held at Stanford).
I don't know what caused the five episodes of hamstring tightness. Maybe nothing caused it. Chris Korfist believes that braces may have had an impact (yes, the braces on your teeth). Marcellus had his braces taken off and put back on in the past year. Maybe it was the five high-profile indoor meets (added the Iceland meet this year). Maybe it was the daily toll of football recruiting. Every time I spoke with Marcellus he had another handful of recruiting stories for me (24 division-one offers). Let's just say, Marcellus was a little busier this year than he was as a freshman and sophomore.
Homewood-Flossmoor
HF has scored 129 points in the last three years placing fifth, second, and second in the team standings. Over that three year period, the second-best team in 3A has scored 101 points. HF is another one of those sprint-jump teams that dominate at the state level.
HF won gold, silver, and silver, in the state 4×1 in the last three years. It literally took a state record by Plainfield North to beat them in 2018 and the all-time fastest team in state history this year (Crete).  Check out the season-best times by HF in last three years.
2017… 41.49
2018… 41.34
2019… 41.31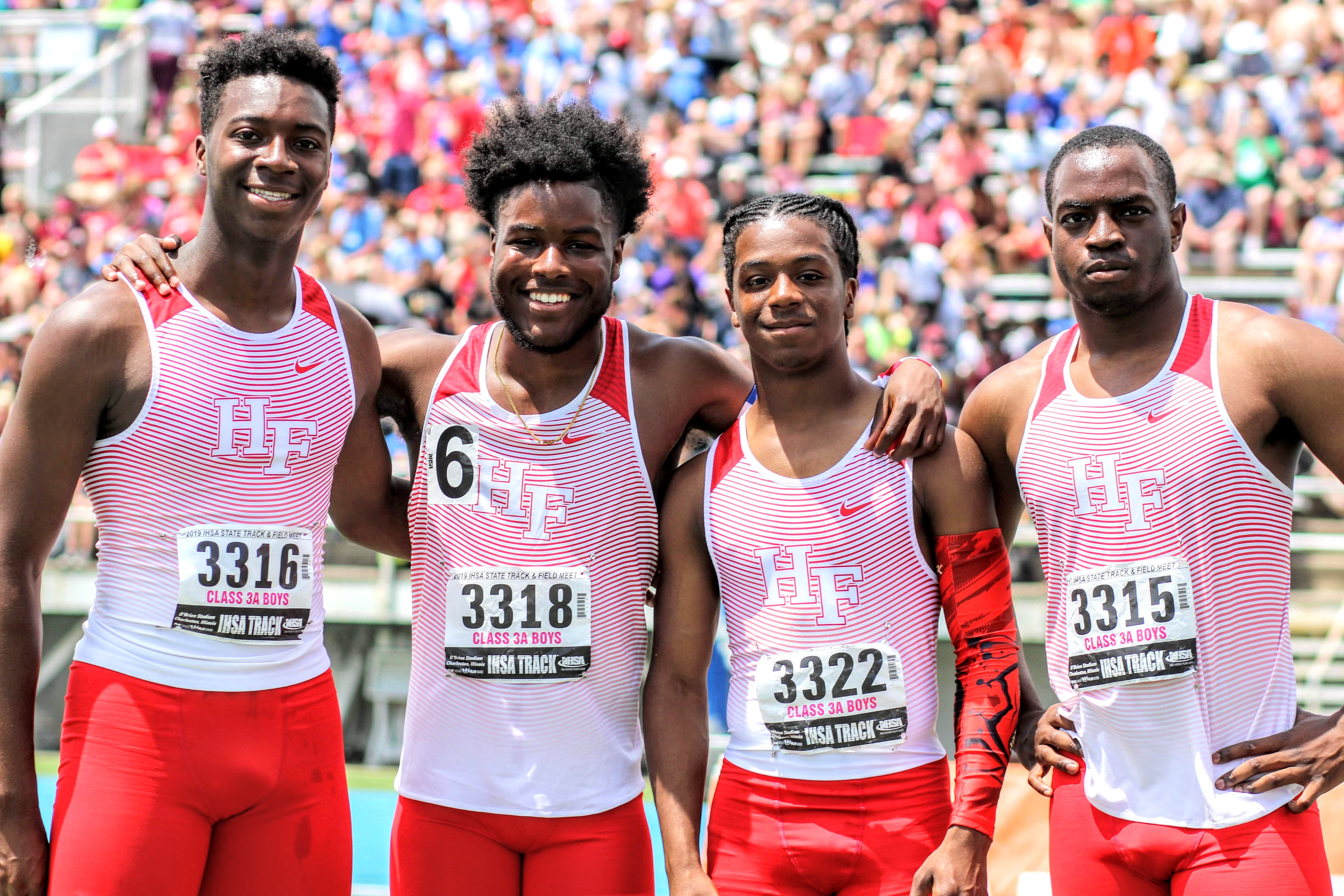 Ugo Anidobu, Joshua Bridges, Marshall Ellis, Jesuseun Adeyiga (Anidobu and Ellis are sophomores!)
HF is another team "in the network". Jumps coach Rob Asisse is a speaker and writer for TFC. Coach Nate Beebe is a TFC and RPR veteran. Freelap is central to their program. The guys from HF are regulars in the Korfist basement. I can't impress upon young coaches enough… expand your clan, visit people who do things well, attend the Track Football Consortium, find your way to the basement of Korfist, and most importantly, feed the cats!
Oh yeah, HF maintains their excellence in the spring while their football program needlessly maintains a hostile attitude towards the track program. This year HF had only ONE varsity football player on the track team, a junior transfer. I'll probably get another nasty email from the HF football coach. IMO, coaches should not discourage educational opportunities for kids. Football players benefit from running track.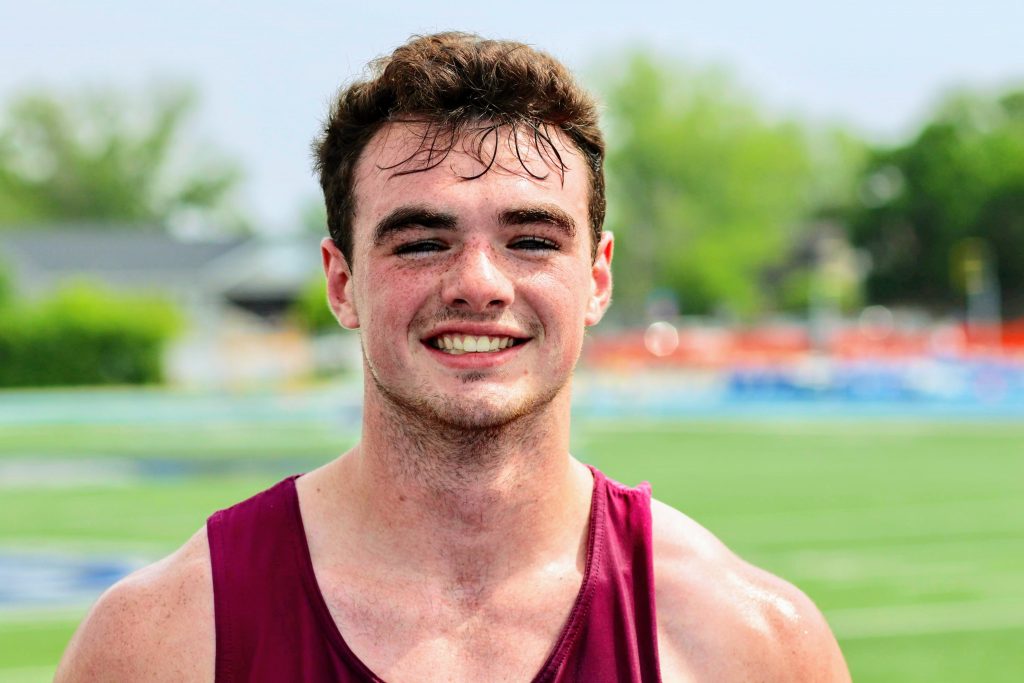 Finnigan Schirmer – 36 Points
Winner 100, 110 highs, 300 intermediates. Fourth in the 200.
Like most great athletes, Finnigan Schirmer was really good when he was young. Check out his freshman times compared to his junior times this year.
100… 11.07 – 10.62
110 HH… 14.83 – 14.12
300 Int… 39.96 – 37.62
Finnigan believes he has the speed to get the 300 intermediate record next year. He's only run it for two years, his freshman year and junior year.
Why not his sophomore year? Well, that year he did the 110, 100, 200, and 4×4. Is there a tougher combination? Finnigan told me that this year (110,100, 300, 200) seemed easy in comparison!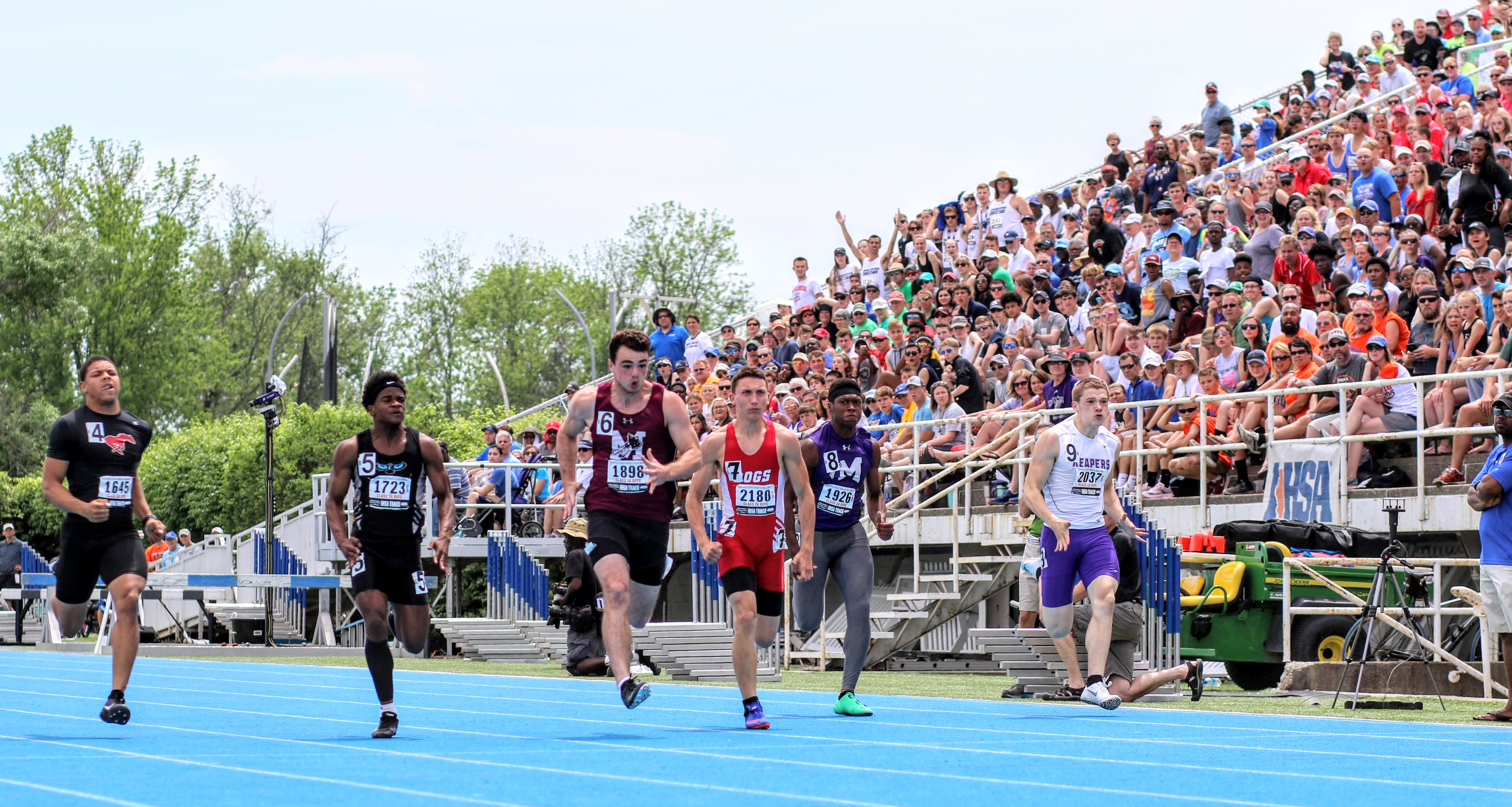 Finnigan Schirmer is 6'1″, almost 200 pounds, and runs 10.62 in the 100 meters. Last year in football, playing for a quarter final team (Marengo), he gained over 1700 yards as a running back and scored 22 touchdowns. He also played strong safety. Finnigan has only one football offer, Eastern Illinois. What??? This kid should have an offer from every Big 10 football team.
However, unless something changes, Finnigan Schirmer plans on being a track athlete in college. IMO, pretty smart for Finnigan to pass up the glory and do the healthier of the two college sports.
By the way, Finnigan Schirmer starts on Marengo's basketball team too.
Fill the Lanes
Why did lanes one and nine to go unfilled in the 3A 4×1?
My hurdler Kyle Burke was ranked #5 in 3A in the 110 high hurdles. He ran in 14.50's twice. Kyle placed 4th in at Top Times. At the 2018 Sectional, Kyle ran 15.01 missing qualifying by .01 seconds. This year his stumbled at the start, was third to the first hurdle and eventually fell late in the race. Based on the fact that extra qualifiers are so rare in 3A, I believe Kyle panicked and tried too hard. If 36 qualified in every race (four heats of nine, or three heats of twelve in distance races), I believe Kyle would have run his own race at Sectional, placed second or third, and eventually would have earned all-state status in the highs. Only ONE extra qualifier made it in the highs, 22 automatic, one extra. Let's expand to 36… better for kids, better for crowd size, better for the sport, win-win-win.
In arguably the best distance state in the country, no extra qualifiers made it in the 1600. Twenty-two milers made it, only 19 ran in the prelims.
How about the prelims of the 3A 800? Three heats of seven, six, and nine runners. Fill the damn lanes. 36 qualifiers in every event.
Score Twenty
Mike Kennedy is one of the smartest guys I know (physics teachers intimidate me).
Coaches have talked for years about having a Team State Meet the week after the IHSA State Meet. For numerous reasons, it just won't work.
Mike Kennedy proposes that we score the top twenty at the state meet… medal nine, but score twenty.
To determine the additional scorers, let's say, in the 100 meters, you would simply go to the prelims for the additional eleven scorers.
But what about ties in the high jump? For ties, the tie breaker would be the Sectional performance. If it's still tied, you break it with the Sectional seed (or just split points).
It's the belief of most great track programs that excellence in ten events should outscore one elite athlete. A few years ago, Plainfield Central placed higher in the state than they did our conference. You remember Kahmari Montgomery?
Scoring twenty places would be a simple way to create a true team championship without taking anything away from the guys winning medals.
The Disease of More
I'm a big fan of Mark Manson. I read his blogs. I loved "The Subtle Art of Not Giving a F*ck". I recently read "Everything is F*cked: A Book About Hope". Mark Manson makes me think and he's so damn quotable.
The following excerpt I originally saw in a blog called The Disease of More.
I attach this excerpt in it's entirety, bad words and all, just as Mark Manson wrote it.
One of the first things psychologists did to study happiness was a simple survey. They took large groups of people and gave them pagers (remember, this was the 80s and 90s), and whenever the pager went off, each person was to stop and write down two things:
On a scale from 1-10, how happy are you at this moment?
What has been going on in your life to cause these feelings?
They collected thousands of ratings from hundreds of people from all walks of life. And what they discovered was both surprising, and actually, incredibly boring.
Pretty much everybody wrote '7,' like, all the time, no matter what.
At the grocery store buying milk. Seven. Attending my son's baseball game. Seven. Talking to my boss about making a big sale to a client. Seven.
Even when catastrophic stuff did happen — mom got cancer, missed a mortgage payment on the house, junior lost an arm in a freak bowling accident — happiness levels would dip to the 2-5 range for a short period, and then, after a certain amount of time, promptly return to seven.
This was true for extremely positive events as well. Lottery winners, dream vacations, marriages, people's ratings would shoot up for a short period of time, and then, predictably, settle back in around seven.
This fascinated psychologists. Nobody is fully happy all the time. But similarly, nobody is fully unhappy all the time either. It seems that humans, regardless of our external circumstances, live in a constant state of mild-but-not-fully-satisfying happiness. Put another way, things are pretty much always fine. But they could also always be better.
But this constant 'seven' that we're all more or less always coming back to, it plays a little trick on us. And it's a trick that we all fall for over and over again.
The trick is that our brain tells us, "You know, if I could just have a little bit more, I'd finally get to ten and stay there."
*Most of us live most of our lives this way. Constantly chasing our imagined ten.*
You think to be happier, you need to get a new job, so you get a new job. And then a few months later, you feel like you'd be happier if you had a new house. So you get a new house. And then a few months later, it's an awesome beach vacation, so you go on an awesome beach vacation, and while you're on the awesome beach, you're like, "YOU KNOW WHAT I FUCKING NEED? A GODDAMN PIÑA COLADA? CAN'T A FUCKER GET A PIÑA COLADA AROUND HERE?" And so you stress about your piña colada, believing that just one piña colada will get you to your ten. But then it's a second piña colada. And then a third. And then… well, you know how this turns out. You wake up with a hangover and are at a three.
Track coaches and track athletes can fall into this trap, always chasing the ten. "Citius, Altius, Fortius" is the Olympic motto. Great athletes are driven by more, more, more. Coaches who are happy with less, less, less, usually become administrators.
I should probably leave it here and let you think, allow you to come up with your own conclusions.
But, because I struggle with this, I will tell you what I think.
Running, jumping, and throwing are trivial things that don't matter. As coaches, we find ways to give trivial things meaning and significance. Is this wrong? I don't think so. When we go on a journey, together, as a team, we awaken something buried deep in our DNA. We awaken the thrill of the hunt. Primitive men hunted in groups. They planned and they struggled. Teamwork paid off. Faster, higher, stronger paid off. Love for each other paid off. Primitive men shared their failures and celebrated their successes, together. Success translated to survival (and survival is significant). Survivors passed their DNA to the next generation. Modern men no longer hunt the great mammoth, but we are stuck with the DNA to hunt, in groups.
Re-reading the above paragraph for the tenth time, I noticed a theme emerged… *we, not me*. I noticed that I used the following words: we, we, together, team, we, we, groups, teamwork, love, shared, together, we, and groups. I used the word *we* five times.
Maybe chasing *more* from a team perspective is noble.
Maybe chasing *more* as an individual is pure greed.
Maybe I'm crazy.
Maybe what I'm saying is that the medals and trophies are not as important as the hunt. When men work as a team for a common goal, we awaken something at our core. It's been at my core for 60 years.
Life is a team sport.
"In the field of opportunity it's plowing time again."
Tony Holler
@pntrack
630-849-8294
tony.holler@yahoo.com
101 Bits of Advice from an Old Man to his Youngest Son
Track Football Consortium
(June 21-22)
The Boulder Tapes
(4.5 hours of content produced by Jay Johnson)
Feed the Cats
(75 minutes with live demos, best seller for Championship Productions)