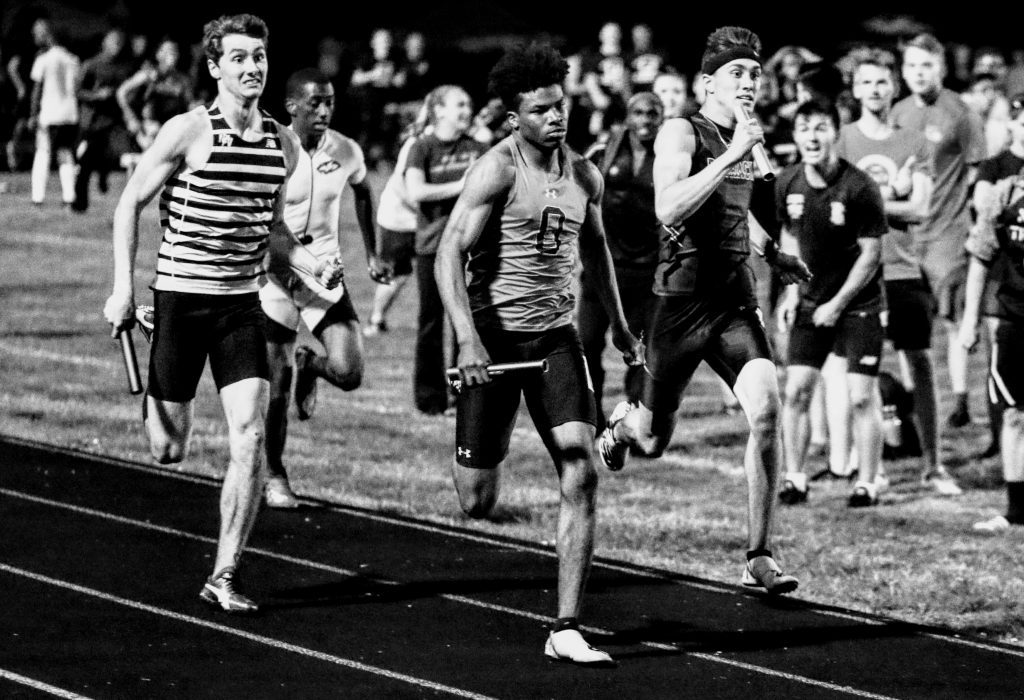 The 4×4 Team Predictor
I used to like Sectionals. Not anymore. Last year, 8 of my 15 all-conference athletes failed to qualify for the state meet. This year our defending state champion sprint relay teams will not run in Charleston. In addition, our terrific hurdler (14.56), Kyle Burke fell in the hurdles and did not qualify. The sadness was almost too much for me to overcome. But overcome we must. We were given eyes in the front of our head. Never look back.
After the hurdle disaster and the surrender of our sprint relays, I put my entire focus on our 4×4 team. The week prior, we won the SPC with a mediocre time of 3:26.40. With the crazy weather this season, none of the 17 teams at the Ottawa Sectional had run faster than us. I knew faster times were coming. We went all-in. The 4×4 was to be the only event for Jalyn Givan and Mitch Pearson. Ryan Maseman ran only the 4×8. Anthony Capezio ran only the 4×1. We were fresh and we were focused. We needed a PR from every guy.
Givan (51.6), Capezio (50.2), and Maseman (51.6) all ran a PR. Mitch Pearson ran a season-best 50.5. We placed a competetive third with a time good enough to qualify (3:24.16). Mission accomplished.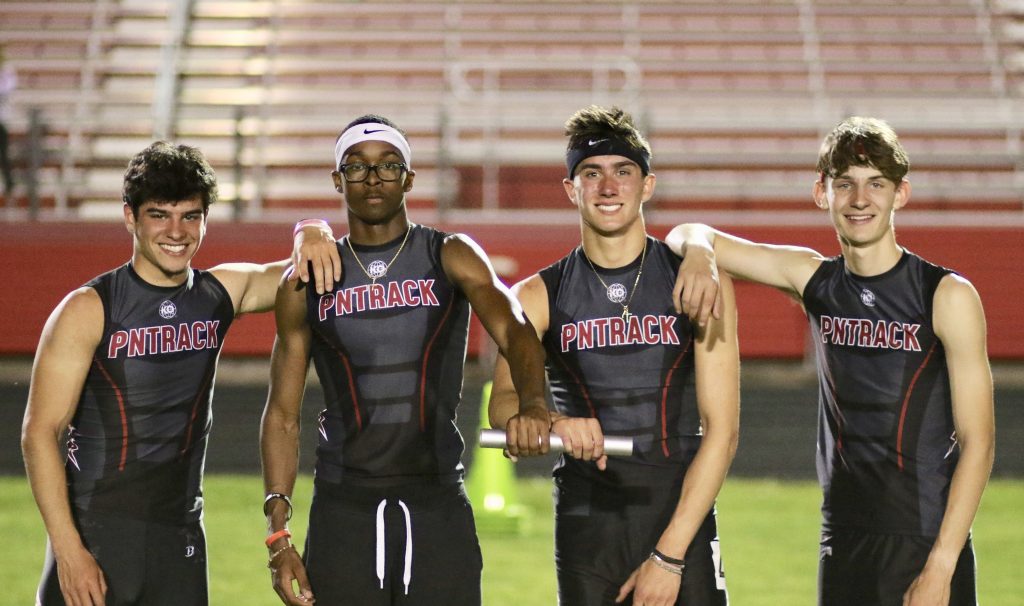 Now all four must run another one-second PR in the state prelims, or the season's over for Anthony, Jalyn, Mitch, and Ryan (shown above).
I'm not ready for this team to bow-out.
I've spent three days thinking of a workout that might put us over the top.
My favorite 4×4 workout is the 600m 4×4 Predictor. Three fly 200's with three minutes rest. Add the times, multiply by .67, and add two seconds.
Today (Sunday, May 19, 2019) at 2:00, we ran a version of this workout.
First of all, we sat in a circle and talked. We talked about the need to run 3:20 this Friday. We talked about how Jalyn needed to give us a 50.5 lead-off leg, Anthony 49.5, Mitch 49.5, and Ryan 50.5. These splits would allow us to run 3:20, probably good enough to get into the finals. I also told my guys, make sure your parents attend on Friday because there's an 80% to 90% chance we won't make the finals. Damn, I want this. I can't imagine four better kids. Two sophomores (Jalyn Givan and Ryan Maseman), one junior (Mitch Pearson), and one of my all-time favorites, Anthony Capezio.
I told Anthony before the Sectional 4×4, in front of his teammates, "Anthony, this could be your last race." Anthony's reply, "It won't be."
Back to the todays workout…
I rode my bike to practice in the pouring rain (I'll explain later). We had our talk. We did our speed drills in the field house while it poured outside. My plan was to do the workout in a torrential downpour if we had to.
By the time we got outside, the sun was out.
Instead of a fly start, all four guys stood at the 200 starting line in lanes 3, 4, 5, and 6. I started in lane-one, 40 meters back (on my bike). You see, I told my guys that the only way we run 3:20 on Friday is if we run *together*. The only way we run out-of-our-minds is if we are running for each other. I also told them that I wanted to be a part of their final workout. I would ride with them, encouraging them the whole way. Mitch asked me if I could keep up. I told him I hoped so. Usually we run our 4×4 predictor in single file. Today we ran together, as one.
Kyle Burke (now my assistant coach), stood in the bleachers and videoed each 200. He used his "Coaches Eye" app on his phone to assign automated times.
1st 200
2nd 200
3rd 200
Here's another alteration. Instead of every guy getting a "predictor time", we would get the average time of the foursome. We are running *together*, not separate.
How did it go?
They killed it.
Today's workout may have ranked up there with the workouts of my 1998 and 2004 Harrisburg teams (3:19.9 and 3:18.3).
(On a side note, coaches born in 1959 probably shouldn't attempt 20 mph in lane one of a 400-meter track. Lucky I stayed upright and encouraged my guys the entire way.)
What were their times? (remember, these are NOT fly times)
Givan 23.97, 24.42, 25.23
Capezio 24.10, 24.26, 24.76
Pearson 23.57, 24.36, 25.17
Maseman 23.86, 24.63, 26.63
Here is the *team* predictor figured by the sum of three times x .67 + 0.75, then add the four times together.
Givan 49.85
Capezio 49.52
Pearson 49.51
Maseman 50.29
4×4 time = 3:19.70
We now know what we are capable of Friday. We can break 3:20 and shock the world. The odds are against us, but screw the odds. We will race for each other and surrender to the results.
The 4×4 is a street fight.
Let's race.
Tony Holler
@pntrack
tony.holler@yahoo.com
Track Football Consortium
(June 21-22)
The Boulder Tapes
(4.5 hours of content produced by Jay Johnson)
Feed the Cats
(75 minutes with live demos, best seller for Championship Productions)