Speed Quest – Connor Artman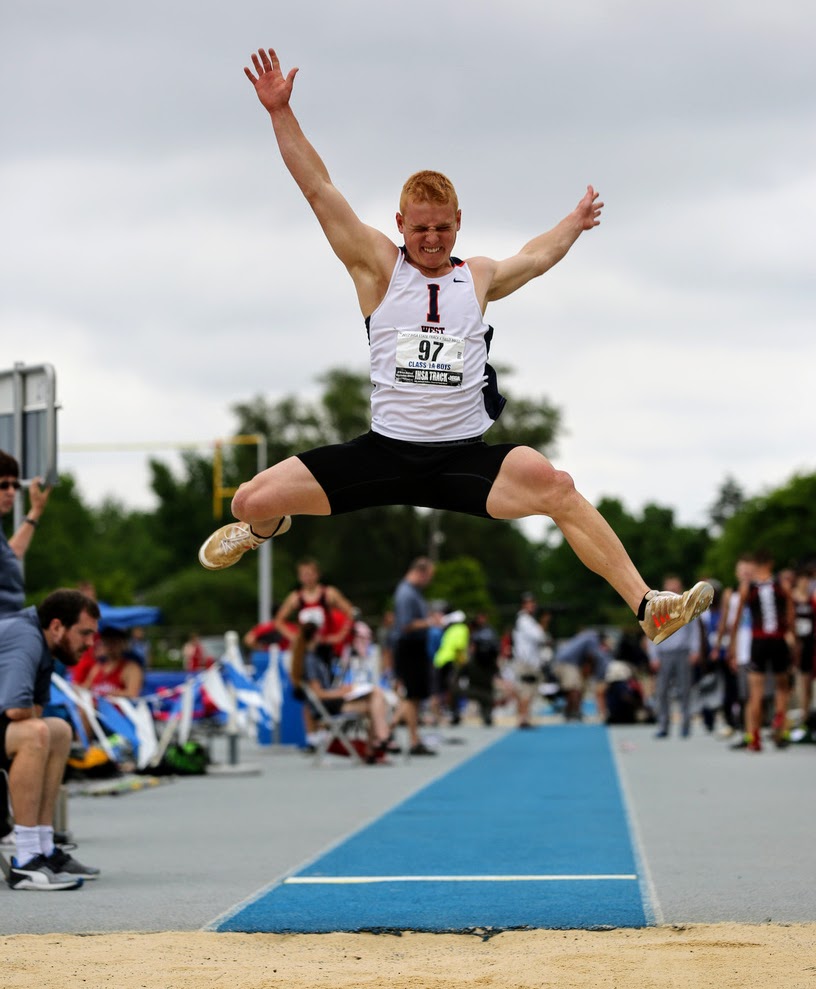 Connor Artman
I was recently contacted by the head coach of Illini West, John Artman. Illini West won the Illinois Class 1A state championship this year. The star of the team was Connor Artman, the coach's son.
Connor had a great state meet for a junior.
♦ Long Jump 23'5″ (1st)
♦ 110 HH 15.07 (3rd)
♦ 300 IH  39.25 (4th)
♦ 48.8 split in 4×4, 3:22.88 (2nd)
Understanding the importance of improving speed, John Artman asked me to work with Connor.
John Artman has coached at Illini West (360 students) for 10 years. John has coached 68 state qualifiers and 7 state champions in his ten years and won 2017 Coach of the Year.
Connor Visits Plainfield North
John and Connor Artman made the 480 mile round trip to Plainfield.
We started with RPR (Reflexive Performance Reset). I did simple Level-1 RPR, getting his psoas and glutes firing properly.
We worked on the big three issues of mechanics – legs (big in the front), arms (big in the back), and posture (tall).
I coached Connor through the ten speed drills we do at every practice. We don't warm up, we do speed drills.
Then we sprinted three times. We ran three 40s timing the 40 and the 10m fly. Connor averaged 4.41 in the 40 and ran 1.00, 1.00, and 1.01 in the 10m fly. If you can run 1.00 in the 10m fly, you can run 11.00 in the 100m. World class sprinters run 10m in the 0.81 to 0.89 range. Plainfield North phenom, Marcellus Moore, ran 0.92 last winter and ran 10.40 in the 100m at the Illinois state meet.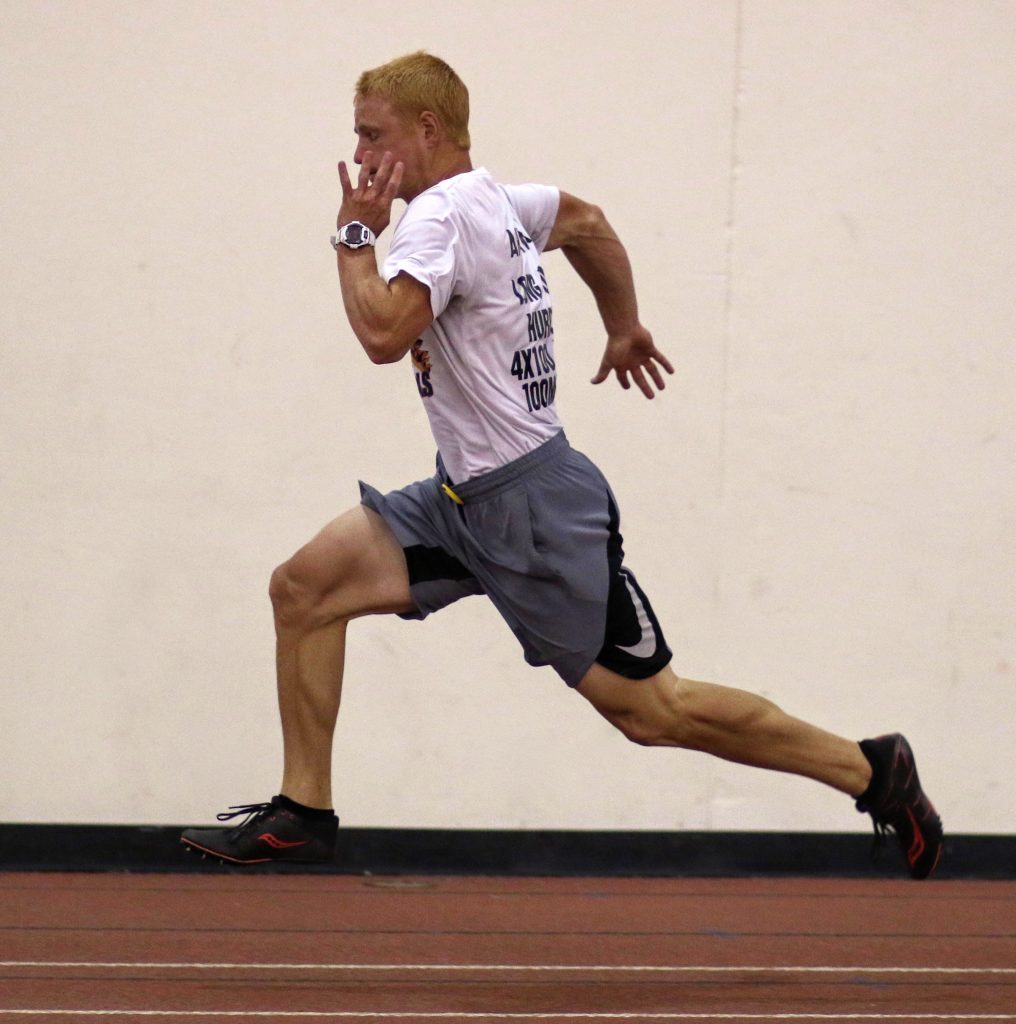 Connor Artman in the power position.
That's it. That's a speed day at Plainfield North.
I suggested that Connor do a speed day just like I showed him two times a week, three at the most. I also suggested a trip to Edwardsville to work with one of the best hurdle coaches in the country, my son, Alec.
Connor Visits Alec Holler in Edwardsville
In the last five years, Alec Holler's hurdlers have scored 77 points at the state meet. Last May, Alec's hurdlers placed first and third in the 110s and first in the 300s. In 2016, Edwardsville's Travis Anderson ran the fastest 110 HH in the history of Illinois, 13.59.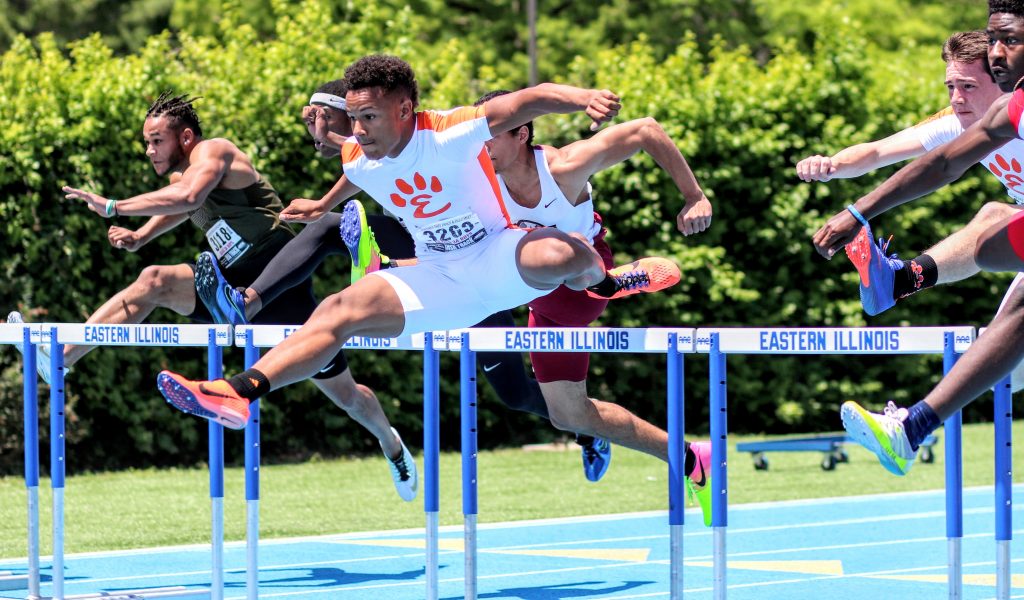 Travis Anderson, the best hurdler in the history of Illinois winning silver as a sophomore, gold as a junior, and gold as a senior in the 110s. Teamate Matt Griebe can be seen on the right side of the picture. 
I wanted Connor to work with Alec because Connor's high hurdle time (15.07) did not match his pure speed (1.00 in 10m fly). If you can run 1.00 in the 10m fly, you are a true sprinter.
John and Connor Artman made the 350 mile trip round trip to Edwardsville.
What did Alec do with Connor?
♦ Alec switched Connor's block start, putting his lead leg back in the blocks.  (The lead leg must be back in the blocks to make eight steps to the first hurdle).
♦ Alec fixed Connor's acceleration in order to cover more ground (Connor's first step was barely clearing start line – must push, push, push).
Before any changes were made, Connor ran a fully automated time of 2.62 over the first hurdle. After fixing the issues listed above, Connor ran 2.55 and 2.49. Connor's best time to the 2nd hurdle (two-foot discount) was 1.10. Alec uses the Hudl Technique App to measure speed, starting on movement and ending on touch-down after the first and second hurdle.
When compared to Alec's star hurdlers of last season, Connor Artman's times of 2.49 and 1.10 are in the same ballpark. Let's just say Connor Artman will run faster than 15.07 next year.
♦ Travis Anderson was 2.43 and 1.10 in practice. In meets, Travis usually ran 2.34 and 1.03. Travis was 3A State Champion 2017, running 13.79.
♦ Matt Griebe was 2.53 and 1.12 in practice. Griebe shocked the world placing 3rd at the state meet running 14.35.
On a side note, I love the story of Matt Griebe.
♦ Never broke 15.00 in the 110 HH until his senior year.
♦ Best 40 yard FAT time = 4.92 (Anderson ran 4.58)
♦ Best 10m fly FAT time = 1.09 (Anderson ran 1.01)
Obviously, Connor Artman, with a couple of small fixes, could run 14-low next year.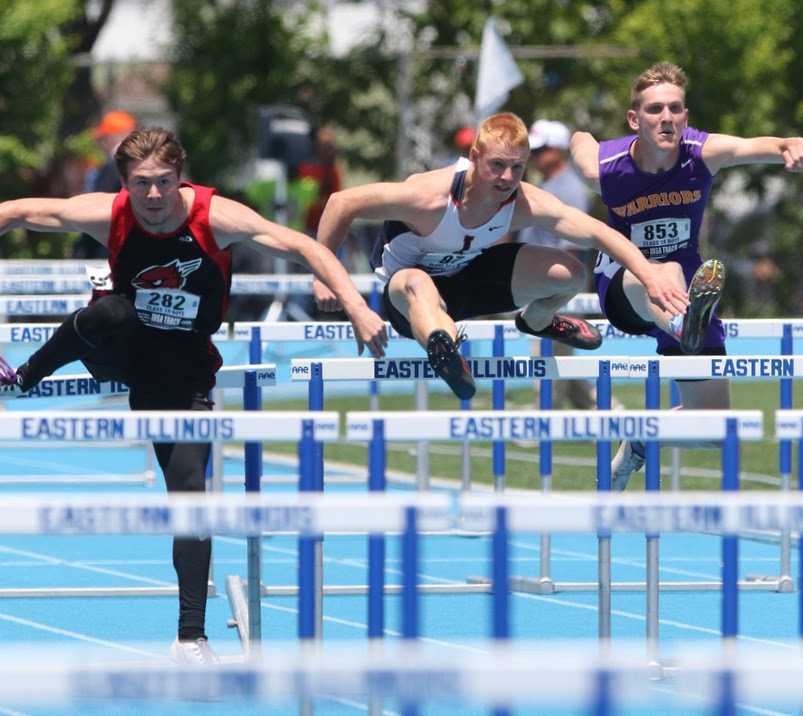 Connor Artman will run 3A times next year in the 110 HH. 
What homework was assigned for Connor Artman?
Connor was encouraged to do low-dose hurdle work, spiked-up and fast. Never more than the first two hurdles. Discount hurdle height (36″ not 39″). Discount the distance to the second hurdle by one or two feet.
(Note to parents out there. Many track clubs are high volume hurdle programs. Just because someone ran college track does not make them a coach. Don't let a track club charge you hundreds of dollars and get your kid injured. LOW VOLUME IS THE ONLY WAY TO IMPROVE SPEED. High volume results in slower times, injuries, and mental fatigue.)
Connor Visits the Basement of Chris Korfist
The third stop on Connor Artman's summer speed quest was Chris Korfist and his famous basement.
I am a co-conspirator with Chris Korfist, one of the best sprint coaches in the world. If I was advising a world-class sprinter, I would send him to Chris Korfist.
Before Connor's 4:00 appointment with Chris Korfist, Connor and his dad spent an hour with me. We did a speed day in our first meeting. In our 2nd meeting, I put Connor through an abbreviated low-dose X-factor workout. I showed hurdle mobility, wickets (six variations and spacings of 5, 6, and 7 feet), lunges (five variations), cat jumps (three variations), depth jumps, assisted plyos (two variations), toe pops, booms, and leg swings. We have more in our catalog but that's a good start. Now Connor has an alternative workout to go along with speed days. In Plainfield North's winter program, we do speed days Monday and Wednesday. We do X-Factor workouts Tuesday and Thursday. I made a video last winter of some of our X-Factor activities.
We were late getting to Chris Korfist's Burr Ridge home. I-55 traffic is terrible in the late afternoon.
The first thing Chris did was video Connor sprinting from the side and head-on. Head on video always reveals the most important information. Chris identified a malfunctioning ankle (left heel never made contact with the ground), a cross-over leg, and slight forward lean. Note: these flaws were minor, overall, Connor Artman is an exceptional athlete.
On the table, Chris Korfist found Connor Artman's psoas to be weak, no lateral strength in externally rotated position, and no internal hip rotation.
Using RPR techniques (some at a level I've yet to witness) Chris Korfist made changes in Connor's flexibility, ankle mobility, and strength.
"I knew Connor had been through a Level-1 with Coach Holler and was pretty good, so I did Level-2 stuff with some RPR exercises to get the body to work through the new strength. I gave him more lateral strength with 1st rib reset, went into the mouth for more glute, and gave him exercises for the ankles."
Connor was shown three strength exercises to do as homework.
♦ Hip Hikes with ball against the wall with environmental challenges for more neural connection and learning.
♦ Supine Glute March which ties into psoas for hip flexion and arm for anatomy train work. One glute was smaller than the other so reps were not equal for both glutes.
♦ Ankle Swivels – internal rotation on a swivel disc with hip control to allow more drive to big toe.
Then, it was back to the road in front of Chris Korfist's house.
The video was amazing. The split screen view showed a visible change in mechanics.
Make sure you watch this video. You will be amazed at the change in Connor Artman. It blows my mind that these changes can happen in less than an hour. Also in the video, you will hear Chris Korfist's evaluation of Connor's running form. Priceless!
John Artman described the session like this, "Mr. Korfist took video from the front and the side. I saw the familiar bend at the hips. I saw the right knee traveling to the midline that I've noticed for years. That led to 45 minutes on the table in the scientist's basement, most of which seemed a little painful. Ha. We went back outside to video again. Gone was the bend at the waist and the knee travel. I had spent years trying get those issues fixed. It took Chris Korfist only 45 minutes."
Chris asked Connor what his goals were for his senior year. Connor wants to long jump 24'6″ and improve his speed times.
Connor's dad, John, asked Chris about work in the weight room. I will never forget Chris's answer, "Connor is strong enough."
Too many strength coaches believe that increasing strength is ALWAYS the goal. The weight room is an endless quest for more strength.
Chris asked Connor what he weighed. Connor replied "155". (Connor is about 5'9″). Chris said, "I think you should lose five pounds."
Wow. Two counterintuitive Korfistisms back to back. After telling Connor to stay out of the weight room, now he was telling Connor, when it comes to weight, less is more.
I guarantee that none of you reading this article would look at Connor Artman and say he needs to lose weight. His body fat seems to be zero. Like all good sprinters, Connor looks ripped and lean.
Is strength important? Yes.
Are sprinters strong? Yes.
Need to lift more weights? Maybe not.
Need to get bigger? Might need to get leaner.
One week later, Connor Artman did a sprint workout and posted this 10m fly time.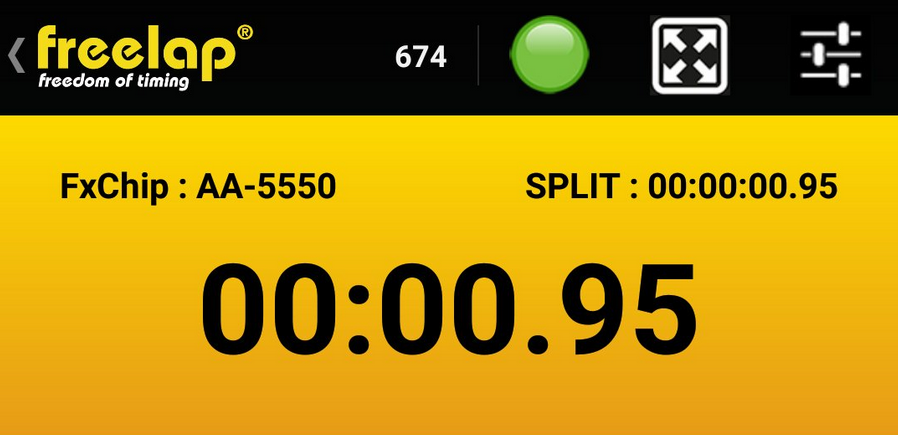 Is an improvement of 1.00 to 0.95 significant? YES!!! This could translate into Connor running 10.70 instead of 11.00 in the 100m.
John and Connor Artman traveled over 1300 miles to visit three coaches on a quest for speed.
I think they may have found it.
+++
Please forward this to others interested in speed training. The message only gets out by sharing on Facebook, retweeting on Twitter, and sending the link to others.
In addition, if this stuff is interesting you, come to TFC-6 in December.
+++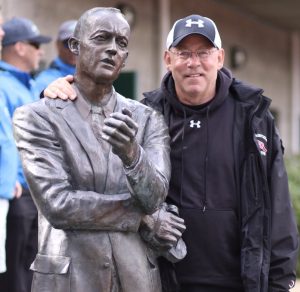 Tony Holler has taught Chemistry and coached track for 36 years at three different high schools, Harrisburg (IL), Franklin (TN), and Plainfield North (IL). Inducted into the ITCCCA Hall of Fame in 2015, Holler's teams have continued to feature great sprinters. Along with Chris Korfist, Holler co-directs the Track Football Consortium held twice a year (June and December). Holler has written over 100 articles promoting the sport of track and field and sharing everything he knows. His articles can be found at ITCCCA.com, FreelapUSA.com, and SimpliFaster.com. You can follow Coach Holler on Twitter @pntrack and email him at tony.holler@yahoo.com.
Don't miss videos from past consortiums! Videos