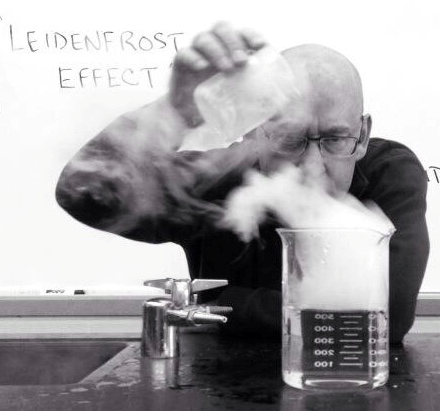 Goodbye to High School
By Tony Holler
On February 18, 1959, I was born a teacher's kid. My father, Don Holler, taught and coached for 47 years (Gridley, Flanagan, Shelbyville, Princeton, Oswego, Aurora University, and Aurora Central Catholic). Dad worked as a dean's assistant at Waubonsie Valley High School for another ten years after retiring from teaching. My father believed teaching and coaching to be the most honorable profession in the world.
The central theme of my childhood was high school. I seemingly spent most of my youth in high school hallways, gymnasiums, and locker rooms. Being my father's oldest son, I became his wingman. There wasn't a day when I didn't think about my dad's high school football, basketball, and track teams.
It's strange to be a little kid tied to a high school. Teenagers were my idols. When Alice Cooper burst onto the scene with his anthemic I'm Eighteen, I was eleven. To this day, eighteen sounds old to me.
I could make the argument that high school has been the common thread of my entire life. I was only free from the high school life for a brief window of time… college.
I entered Knox College as a pre-med student, but deep down I knew what I was born to do. I ended up student-teaching my senior year.
Looking back, student teaching was a seminal moment for me. My winter of 1981 established the inertia to where I am today. My cooperating teacher was my mom's brother. Kelly Kane was ten years younger than my mom, ten years older than me. No one from Knox ever asked if my cooperating teacher was also my uncle, so I didn't tell them. I moved in with my uncle and his family during my ten weeks of student teaching. I slept in a space in the the basement a few feet from an ancient furnace. I usually went to bed by 11:00, woke up at 6:30, and dressed like a grown up. Living with a young family (three kids including a baby) was a stark contrast to the debauchery of the Beta House of Knox College. My immersion into student teaching went even further… I coached basketball full-time for Galesburg High School.
Student teaching was only a fraction of my experience. Bill Allison, Dave Peck, Barry Swanson, and Tom Hensel, four teaching and coaching friends of Kelly Kane, adopted me as a friend. All became mentors. Spending time with those five men in their early thirties, I got a glimpse my future. I witnessed the daily struggle of teaching and coaching while raising a young family on a shoestring budget.
I've often described life with a metaphor of being born into a boat. We arrive into our boat without choosing our parents, our skin color, our inheritance, our location, and our religion. We are born without choosing to be born. If we are lucky, we are born into a decent boat. Our boat heads down stream until it falls off a cliff into the abyss. We never know when the cliff will come. People don't return from the abyss. Sometimes we change boats and passengers, but the boats continue to head down the river regardless. The current is forever, life is not. In a way, high school has been a part of my boat for 60 years.
August, 1981
I began teaching in 1981 at an old school in poor coal-mining town. I chose Harrisburg in the hills of Southern Illinois over Palatine Fremd in the rich suburbs of Chicago. I would have made more than twice the money at Palatine Fremd. I chose to live in near-poverty because Harrisburg offered better coaching opportunities.
My first night out in Harrisburg, I met my future wife. Jill Brinkley was literally the first girl I met in my new town. For the next two years, Jill and I worked together at Harrisburg High School. 22 months after we first met, we got together and married nine weeks later. Nine weeks later.
On my second night out in Harrisburg, I went night fishing with the newly hired football coach and newly hired baseball coach. I hadn't been fishing since I was in the third grade, so I was pretty nervous going fishing in the middle of the night with two strangers. We drove deep into the Shawnee National Forest, probably Hardin County or Pope Country. I remember driving through tall grass to get to a creek. We traversed the creek in a rowboat, sticking dozens of cane poles into the muddy creek bank, traveling back and forth to reap our harvest. All three of us in the boat that night became Hall of Fame coaches. Al Way in football, Jay Thompson in baseball, and me in track & field. All three of us coached three sports. Jay Thompson recently won his 800th high school baseball game. Al and Jay were my best friends for 23 years. We haven't spoken since my family left Harrisburg in 2004.
In 1982, I became the youngest head basketball coach in the state of Illinois. Harrisburg was meant to be a brief stop, a stepping stone to the big time. Instead, I got married and had four kids. I got fired as the basketball coach without cause in 1990. A month earlier the school board hired me as head track coach.
After 23 years in Harrisburg, we decided to blow it all up and relocate. My wife and I were offered jobs in Kentucky, Tennessee, and Florida. We chose to go to Franklin, TN. I taught and coached for two years at the best high school in the state. Franklin was a spectacular place to live and work. Red state teachers are grossly underpaid but I loved Franklin and loved Franklin High School. I was proud to be a Franklin Rebel.
Before my first year at Franklin ended, an old high school classmate, Pete Pasteris, called and asked me if I'd be interested in coming to his new high school on the north side of Plainfield. Pete promised Plainfield North would become "The New Neuqua". Pete Pasteris was Plainfield North's first principal. Pasteris had already hired two legends, Dan Darlington (football) and Joe Gura (basketball). My cousin, Tim Kane, was on the football staff. With the lure of a $20K pay increase and an indoor track, I said yes to Plainfield North. The Plainfield North chemistry position would not materialize for another year, so I spent a second year at Franklin in limbo before heading to North for the 2006-07 school year.
My 13 years at Plainfield North have flown by. Ask old people and they will all tell you how time flies as you age. 38 years ago, I was a 22 year-old teacher at a high school where most teachers were older than my dad. Now I'm 60. My boat is better than ever, but it's still headed towards the cliff and into the abyss.
"The years just flow by like a broken down dam." – John Prine, Angel From Montgomery
I thought about writing an article called "My Next 60 Years", a take-off of Tim McGraw's hit song, "My Next 30 Years". However, the story became a strange attempt at science fiction, something about the discovery of telomere lengthening drugs being marketed in the year 2059. The good news, I would live forever. The bad news, I would live forever as a 100 year-old man.  No thanks. The abyss is not a bad thing.
"Time does funny things to us. It removes everything from us and substitutes new things which will be removed in their turn. Eventually, it removes us, and those we leave behind are left with memories and a new parade of people, events, and things." – Audrey Niffenegger, author of The Time Traveler's Wife.
What Will You Miss the Most?
I will miss prep periods, going home for lunch, and snow days. Seriously. As much as I've loved teaching, I've loved the breaks in the action the best. As a prepare for a lifetime of Saturdays, I'm wondering if my future Saturdays will ever be as great as my Saturdays during a busy school year.
I will miss the seasons. Obviously, I will still experience summer, fall, winter, and spring, but I will miss attending the first day of school in August and seeing five new classes of chemistry students. Next August I will not have a "first day of school" for the first time in 55 years! I will miss the rhythm of the school day. I will miss the tradition of Friday night football games. I will miss looking forward to Christmas break and rebooting my life. I will miss the glory of a teacher's summer. No matter how many 70-hour weeks I worked during the spring, I always knew summer was coming.
In my lifetime of being tied to a high school, I've never had the problem that John Prine wrote about in the aforementioned Angel From Montgomery, "How in the hell can a person go to work in the morning and come home in the evening and have nothing to say." Nope, I always had stories to tell. Every day. High school is a happening place.
At the risk of sounding sappy, I will miss my students. I've pretty much taught sophomores my entire career. I like sophomores because sophomores like high school. Eventually sophomores grow into juniors and seniors who see school as a medium security, teenage daycare and detention center.
Over my 38 years, I've observed that parents of my students seem much older than their actual age. Even the young parents seem old. My theory… if you hang around with adults, you lose track of your inner child. My friends have always been teenagers. Teaching has kept me immature.
I will miss Chemistry. I don't think I will ever teach it again. No more liquid nitrogen demos. No more explosions. No more fire alarms.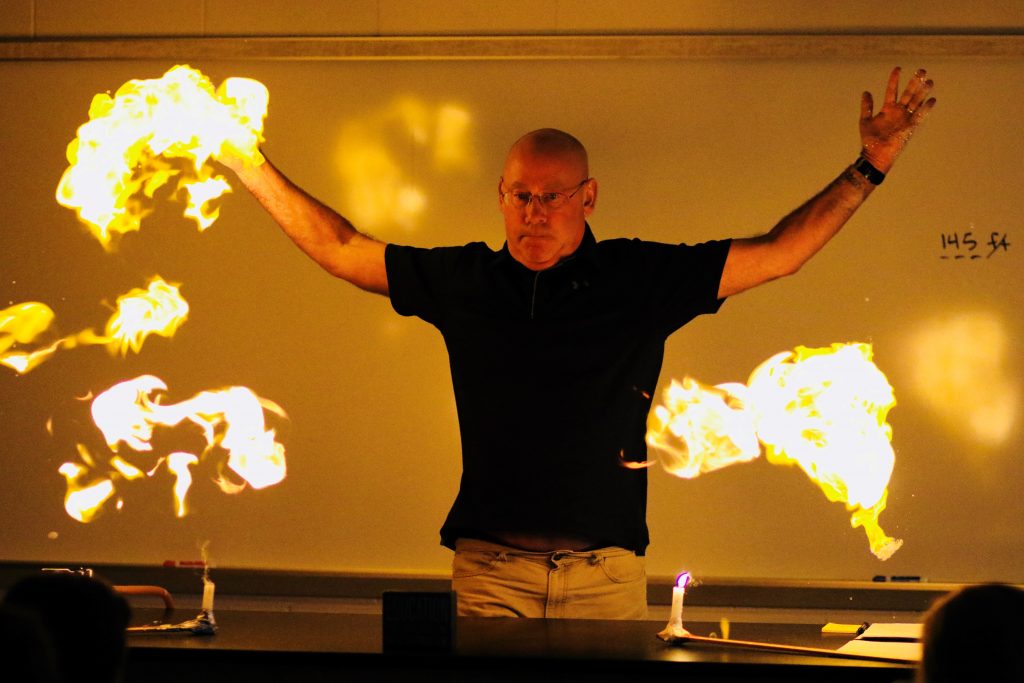 The only quote that sits on my desk comes from W. B. Yeats, "Education is not the filling of a pail, but the lighting of a fire."
What Are You Going To Do?
I plan to stay tethered to Plainfield North in a small way by continuing as head track coach. I don't know if coaching without teaching will leave me feeling disconnected. If I feel like an outsider, I will move on. I'm more than a track coach.
The short answer to what I'm going to be doing is simply, the three R's… reading, writing, and running.
In the past few years, teaching has kept me from doing things I'd rather be doing. In my year-38 of teaching and year-60 of life, I've run every single day. Every single day. At the time of this publishing, I have run 366 consecutive days. I only run a couple miles because I don't have the time to run further. From now on, I will have the time. I've run four marathons, maybe I'll run another.
I've read a thousand books in my life, but recently I don't seem to have the time to read as much as I would like. From now on, I will have the time.
I've become a writer and I have a small but loyal following. I don't have time to write as much as I would like. From now on, I will have the time.
My business, "Feed the Cats", will continue to grow. My business is part photography, part writing, and part public speaking. I answer dozens of emails from coaches from all over the country, so I guess you could say that "Feed the Cats" is also a non-profit consulting business. At the heart of my business is the science and the coaching of sprinting. The soul of  my business is prioritizing the health, happiness, and performance of kids. I've been described as an evangelical speaker, even though there's not an evangelical bone in my body.
My public speaking has allowed my wife and I to travel and explore new places. We will travel to Great Falls, Montana, and Banff, Canada, in July. There's a potential "Feed the Cats" coaching clinic in the works for July (Massachusetts). Jonas Dodoo is finalizing plans to have me speak in the UK in August. I'm hoping it works out, I've never been overseas. I will speak in Tintin Falls, NJ, in September and Ames, Iowa, in December.
I'm co-owner of the Track Football Consortium, attracting coaches from coast to coast. On June 21-22, USC coach Caryl Smith Gilbert will head a list of presenters unmatched at any clinic in the country. We just had a coach from Jakarta, Indonesia, purchase a ticket to our event. Our consortium attracts rebel talent. I've considered writing a book entitled, "The Search for Rebel Talent".
My wife and I have 73 years of teaching between us. Teaching may be in our past, but teaching will always be in our blood. Our kids, Adrienne, Alec, Troy, and Quinn have their own boats now (not real boats, just a metaphor). Adrienne has married Rob, Alec has married Tanya, and Troy is engaged to Julie. Quinn is still single. Our grandkids, Kendrick, Axel, and McKenna are new passengers. Hopefully, we will keep our boats close. Life is better when you ride the current together.
Goodbye high school.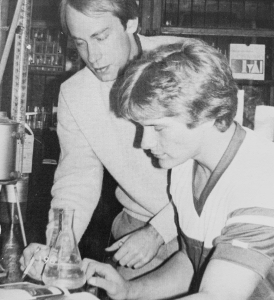 First year of teaching (1981), the kid (Paul Rasch) in the picture is now 53 or 54. 
Tony Holler
@pntrack
630-849-8294
tony.holler@yahoo.com
Ten Ways to Improve Schools Using Coaching Principles
101 Bits of Advice from an Old Man to his Youngest Son
Track Football Consortium
(June 21-22)
The Boulder Tapes
(4.5 hours of content produced by Jay Johnson)
Feed the Cats
(75 minutes with live demos, best seller for Championship Productions)