Football: Differentiating Sprint Practice and Non-Sprint Practice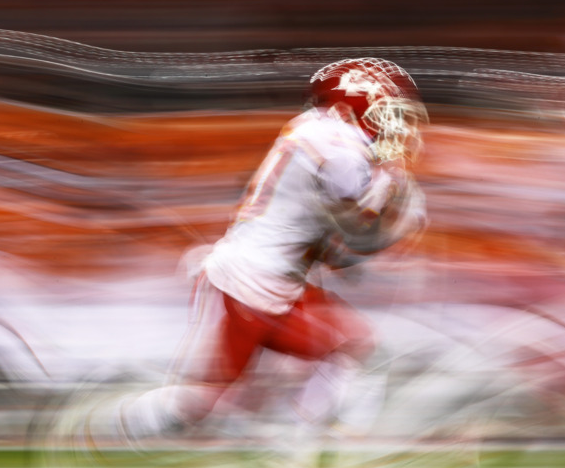 I wrote "New Ideas for Old School Football Coaches" 17 days ago. According to Google Analytics, the article has been read 6000 times by people living in 42 countries (rugby coaches loved it!). The average time spent on the page was almost nine minutes. Yes, my articles are too damn long.
I've fielded dozens of phone calls from places I've never heard of, from football coaches I've never met. The theme of every call has been "What should practice look like?" Every coach wanted to know, "What is the difference between a sprint day and non-sprint day?" This sums of up the need for my original article. Football coaches need to understand the difference between max-effort and max-speed.
SPRINT DAYS
Sprinters can't SPRINT every day. Can't do it. You can RUN every day but you can't SPRINT every day.
Chris Korfist and I believe the maximum number of sprint days is three per week. This number comes with a disclaimer. Sprinters can sprint three times a week if they are healthy, rested, and dosage is relatively low.
Let me explain this from a track coach's perspective. If I had an important track meet on Saturday, my week would look something like this.
♦ Sunday – rest
♦ Monday – lactate workout (high speed, 3 x 200 with 3 minutes rest)
♦ Tuesday – recovery day (mobility, technique work, upper body strength, or just go home)
♦ Wednesday – plyometrics, hip mobility, strength work ("X-Factor")
♦ Thursday – high-speed handoffs and/or timed 20m flys (two, three, or four total reps)
♦ Friday – day off
♦ Saturday – track meet – hardest workout of the week
Monday, Thursday, and Saturday are sprint days. All workouts are low volume with the exception of the track meet on Saturday.
If Monday's workout was repeated Tuesday, Wednesday, Thursday, and Friday, my sprinters would all get injured. If not injured, they would perform like plow horses instead of racehorses.
Case in point. Marcellus Moore (age-14) was the fastest freshman in the U.S. last season running 10.40 in the 100m. If Marcellus would have spiked-up and sprinted every day in practice, he would have never run 10.40. If not for "Less is More" and "Feed the Cats", Marcellus would have missed meets due to injuries. Instead, Marcellus Moore was healthy and fast for our entire 19 week season, running 10.48, 10.48, and 10.40 in week 17, 18, and 19. Don't be mistaken, in a high-volume program, Marcellus would have still won races, but he would've run 10.90 instead of 10.40.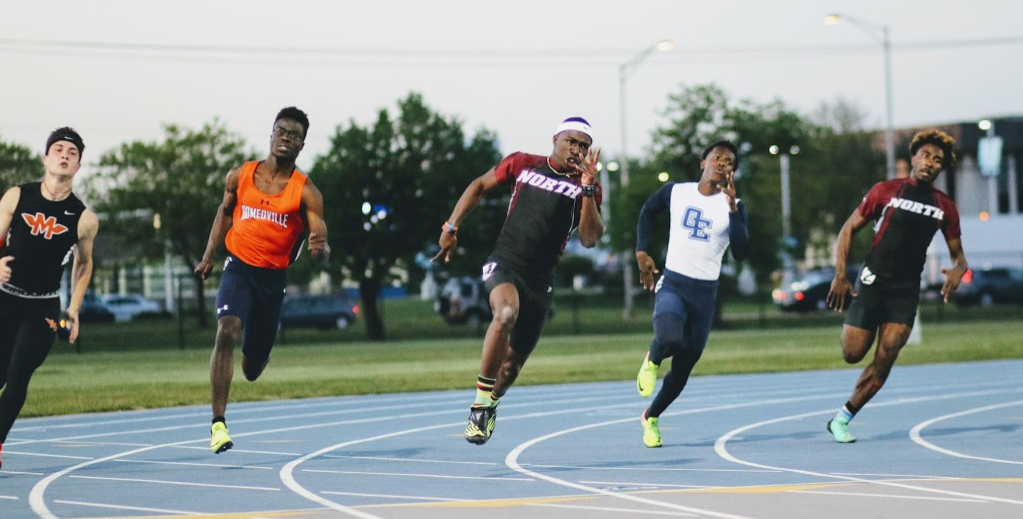 Marcellus Moore (wearing headband)
So, let's apply track ideas to football practice.
Games are sprint workouts. Not every practice can be a sprint workout. Pick a day during the week to sprint in football practice. If you are careful and low-volume, you can sprint two days during the week and still be fast on Friday.
What does a sprint practice look like in football?
In a sprint practice, receivers run their entire route, full speed. Then they rest long enough to run another at full speed. Speed is the key. Rest is critical. Tired receivers are not sprinting.
In a sprint practice, running backs take handoffs and accelerate to full speed. I call full speed "fourth gear". Some (not many) football players have a "fifth gear". To get into fourth gear, running backs will accelerate for at least 30 yards. The RB doesn't finish at 30 yards. If a running back hits top speed at 30 yards, he will finish at 40 or 50 yards. This is HARD. Speed is the key. Rest is critical. It may may take 90 seconds of rest to sprint the next rep at the same speed.
In a sprint practice, find ways to get your other kids to top speed. Special teams are are great way to do this. Get all of your athletes involved in special teams. Allow group one to rest while group two, three, and four have an opportunity to do their reps.
In a sprint practice, focus as much on rest as you do sprinting. Getting tired is not the goal of a sprint practice. In the business of sprinting, getting tired is the enemy. Tired, low-speed sprint reps are conflicting terms. Just writing that sentence made my head spin.
In a sprint practice, everyone on the team participates. If this is not the case, front-line players are not getting adequate recovery. Without adequate recovery, your best athletes will be stuck in 2nd or 3rd gear.
But, if you are giving your wide receiver 40 seconds of rest between routes, how will he get in shape to run routes without rest in a game? Complicated answer here. If your goal is to run half speed routes without much rest, go ahead and practice that way. However, if you want to run in 5th gear on Friday night, prioritize sprinting once or twice a week. Hopefully your fast guys will get better at sprinting with less rest, otherwise you'll need to platoon them in games. I refuse to accept the half-speed option. High speed performance must be practiced.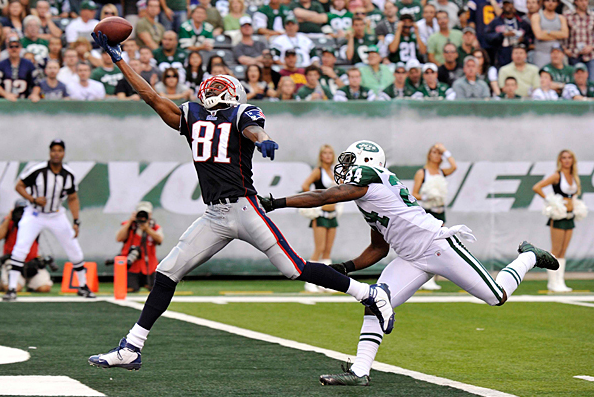 Randy Moss was good at sprinting (and loitering). 
I warn you, those football dads (does anyone work anymore?) watching your practice will see a lot of loitering going on. Your A.D. might walk out to practice and see your kids lallygagging through a ten minute water break. But you aren't practicing to impress unemployed dads or paper-pushing athletic directors, are you? You are practicing to play fast on Friday nights. You want your wide receiver to sprint at 10.40 and not 10.90.
NON-SPRINT DAYS
"Non Sprint" practices can be walk-throughs but they don't have to be.
Maybe we need to do some vocabulary work. Sprinting = maximum velocity. Sprinting is something done at around 10 m/sec, 22.4 mph, or 1.00 seconds in the 10m fly. Usain Bolt ran 0.81 in the 7th 10m of his 9.59 100m dash in 2009. No one has ever sprinted faster than 27.6 mph and it took Usain Bolt 60m of acceleration to reach that speed.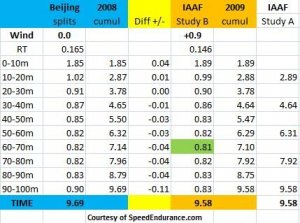 Usain Bolt in 2008 and 2009, #GOAT 
Running is not sprinting.
Max effort is not sprinting.
You can block and tackle in a non-sprint practice. No one is running 20 mph in a blocking drill or a tackling drill.
Working on the run game fits nicely into a non-sprint practice. Tell running backs to hit the hole at top speed, then decelerate. "Top speed" is descriptive to the running back but we all know that no one is running at 20 mph after three steps. Even though the running back is giving max effort through the hole, true sprinting does not happen.
Receivers can stalk block on non-sprint days. No one stalk blocks at 20 mph. Receivers can run slants and other short routes because they are not close to 20 mph after three steps.
Tempo can be quicker in a non-sprint day because you are not trying to achieve top speeds. Rest is not the priority because sprinting is not the priority. Remember sprinting and recovery are inseparable.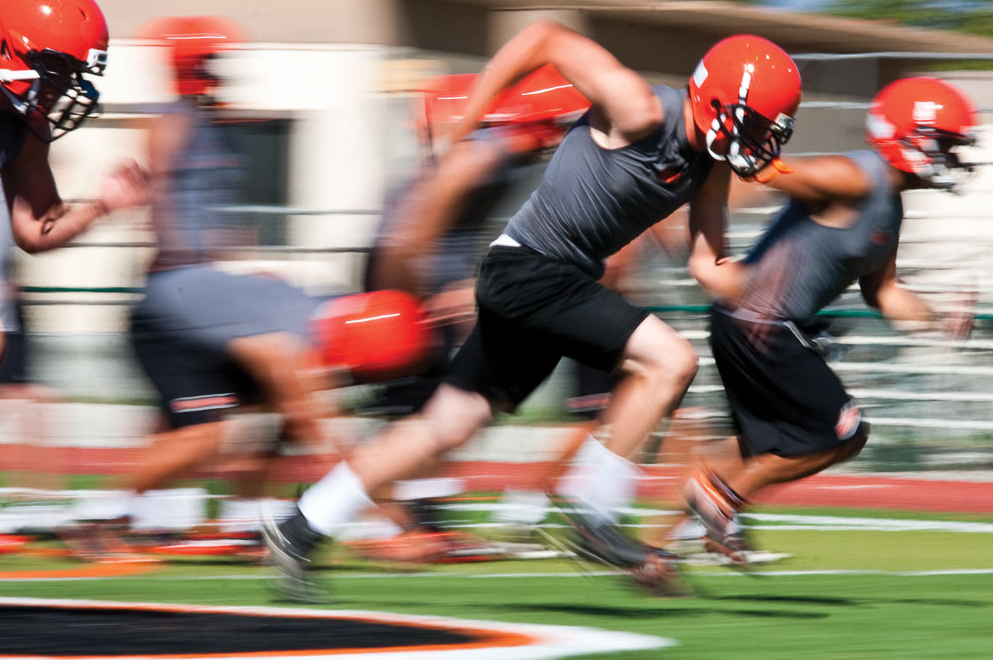 Hurrying between high-effort non-sprint reps will keep the heart rate high for the entire practice. Not that it wins games in my opinion, but your kids will get in shape, whatever the hell that means.
Before you get too excited about non-sprint practices keeping the old ways alive, you must read on.
Thou shalt not let non-sprint days interfere with the next day's sprint practice. 
Sorry coaches. If you crush your kids and they crawl off the field, they will not run 20 mph the next day.
I should drop the mic right now and end this article, but I want to quote someone I spoke to earlier this week.
John Konecki, the outstanding coach from Crete-Monee High School, wanted to talk about speed-based football. After I described what a non-sprint day would look like, Coach Konecki said, "You just described what all of our practices look like."
That's it! That's exactly it! Epiphany!
Traditional football practices are all non-sprint practices. Everyone is stuck in second or third gear. No one runs at 20 mph! Everyone hurries from drill to drill, station to station, and rep to rep. Everyone is sore from the day before. Everyone is tired. Everyone gives max effort but max effort aint' max speed. My idea is to carve out one or two days per week and practice fast, like sprinters. Practice like racehorses, not plow horses.
I recently spoke with a strength and conditioning guy from a major college football program. Like many other wealthy programs, they purchased Catapult (wearable sensors that measure speed throughout a practice using GPS technology). My source tells me Catapult was purchased to help the program become more speed-based. However, the head coach consistently defaults back to old school ways. When things get serious, hard work eclipses high speed. When it's nut-cracking time, rest and hydration seem unmanly . The result? Top speed measured in practice never exceeds 14 miles per hour and old school football lives on.
Ok, I'm dropping the mic.
+++
Please share this article with football coaches. Speed-based football, where practices are short and rest becomes a priority, will result in high performance, but more important, it's really good for kids.
This article is the third of a trilogy.
On July 26, I published "New Ideas for Old School Football Coaches"
On August 2, I published Football: Dosage and Approach ⇒ FAQ
+++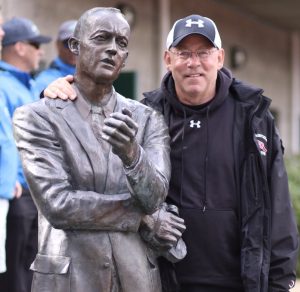 Tony Holler has taught Chemistry and coached track for 36 years at three different high schools, Harrisburg (IL), Franklin (TN), and Plainfield North (IL). Inducted into the ITCCCA Hall of Fame in 2015, Holler's teams have continued to feature great sprinters. Along with Chris Korfist, Holler co-directs the Track Football Consortium held twice a year (June and December). Holler has written over 100 articles promoting the sport of track and field and sharing everything he knows. His articles can be found at ITCCCA.com, FreelapUSA.com, and SimpliFaster.com. You can follow Coach Holler on Twitter @pntrack and email him at tony.holler@yahoo.com.
Don't miss videos from past consortiums! Videos