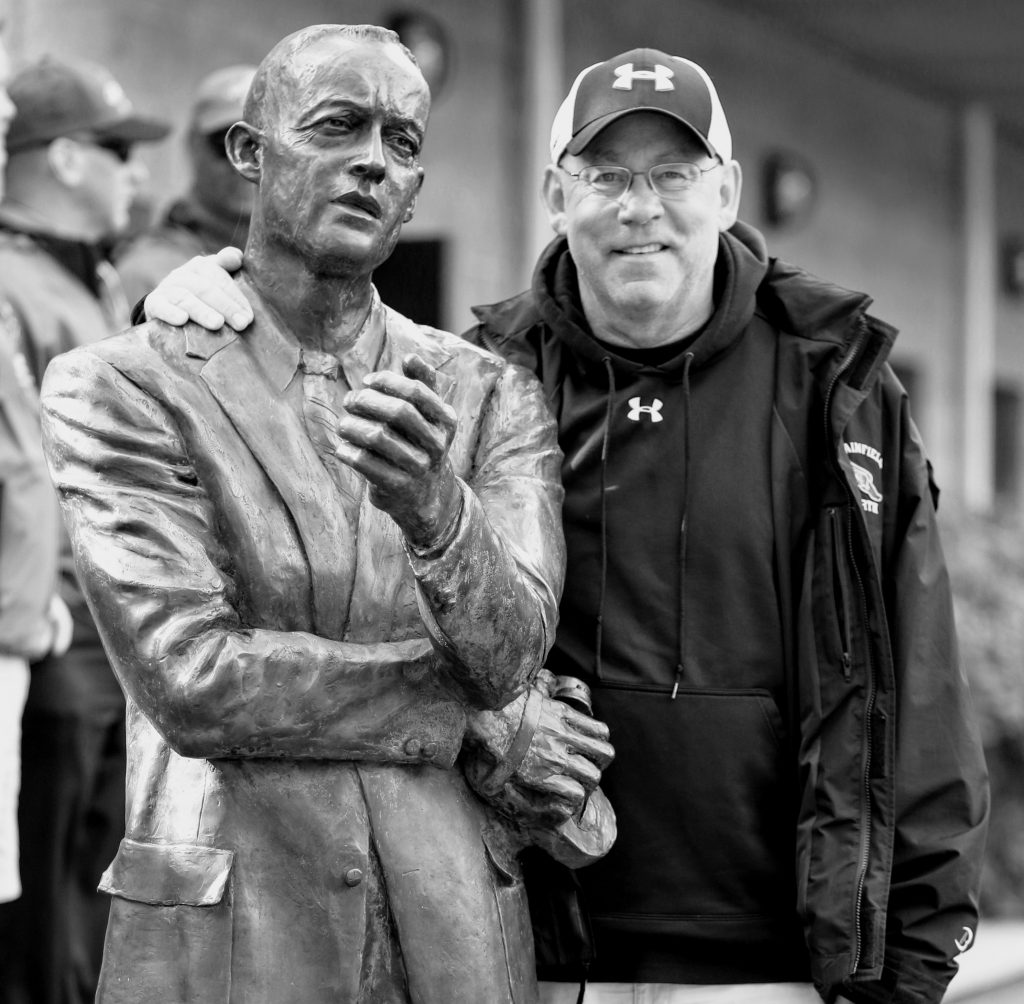 I Was So Much Older Then, I'm Younger Than That Now
I did not author the title above, the credit goes to the greatest poet of my lifetime, Bob Dylan. Written by Dylan at age-23, "My Back Pages", was a huge hit by The Byrds, but the meaning was left for interpretation. Many people saw the song as Dylan's realization in 1964 that he'd have to drop his old assumptions about the world to move on. Some believed Dylan was distancing himself from the folk establishment, declaring his independence in the music world, ready to explore new directions. Most people heard the song, loved it, and had no idea what it meant. Dylan gave no explanations.
I chose to use Dylan's words in a literal sense. The poetic words describe my journey in 2017. As I write today and compare my life to where I was in the first half of 2017, I can literally say, I was so much older then, I'm younger than that now.
Sure, I still look old. When I go through the daily ritual of shaving, I can't help but to say to myself, "I look 65". I don't know why the person inside of me says those words every damn time I shave, but he does. Lucky for me, I spend less than three minutes per day in front of a mirror. Let's get this straight, my "so much younger now" has nothing to do with my appearance.
This article is all about feeling younger. The ravages of time are understood by everyone as they age. I'm 58. In some ways, I was over-the-hill when I lost my hair back in the 80s. I've always had relatively good fitness habits. My dad was the most physically fit man I've ever known. As a basketball coach, he was a better basketball player than the high school kids he coached throughout his twenties and thirties. I've always tried to eat right even though I've been led astray by books like Fit or Fat (Covert Bailey, 1978) that encouraged low-fat, high-carb diets.
I've been a runner for a long time. At the age of 13, my best friend, Rob Torchia, and I would lift weights in his dark and dusty basement and then run a mile to the Dairy Queen and then run back. A 10-cent ice cream cone was our reward. I was not influenced by distance runners, I was influenced by boxers. Mohammed Ali and Joe Frazier did "road work" as a part of their training. In track, I was an over-trained sprinter. As a college basketball player, I stayed "in shape" during the summers by playing basketball and doing road work. One summer, I put on a few pounds so I signed up for the "Montgomery 10-Mile", one of the worst running experiences in my life.
I've had a strange relationship with running. I've been a runner since the age of 13, but I've never been a good runner. I've never broke 5:40 in the mile, never broke 20:00 in the 5K, and never broke four hours in the marathon in four attempts. As a track coach, I'm surrounded by greatness. The Plainfield South coach, Jason Crowe, runs 100-mile trail runs. Jason runs all day and night on muddy trails through the cold and rain. Plainfield Central coach, Jeff Purdom, attempted to run every day in 2017. Jeff failed to accomplish this due to an achilles injury but succeeded in his other goal, #12Sub5in17. Yes, Jeff Purdom ran sub 5:00 in the mile once every month in 2017. See below.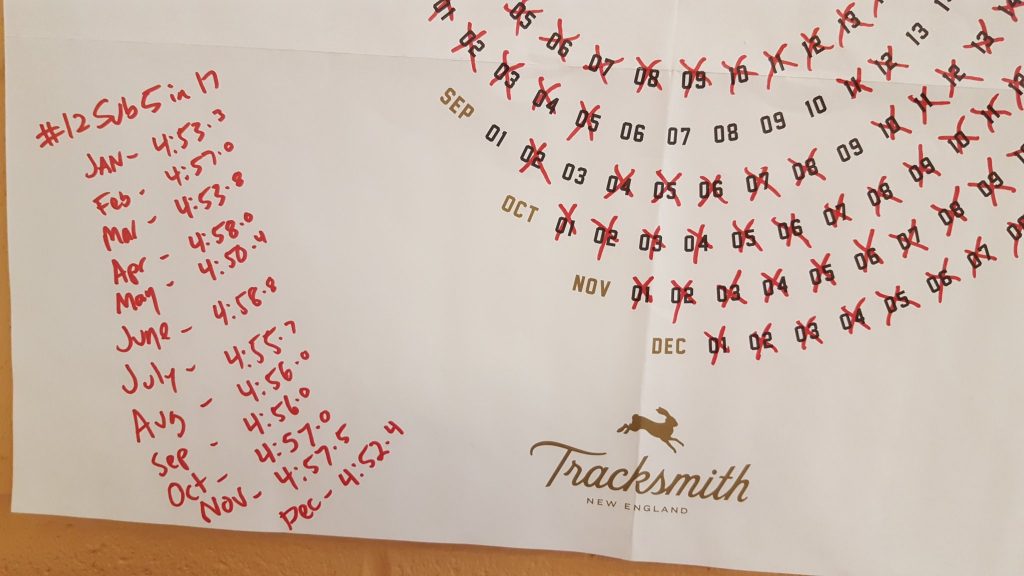 Above: The 2017 Poster of Jeff Purdom's running goals.
Andy Derks is Plainfield North's distance coach. At age 37, Andy is far removed from the guy who won the Class-A mile in Illinois back in 1998. However, Andy has aged well. At age-37, Andy Derks weighs 135 pounds, the same exact weight from his senior year in high school. Andy succeeded in running every day in 2017 and also succeeded in his #12Sub5in17.
Jan 4:57
Feb 4:56
Mar 4:52
Apr 4:43
May 4:32
June 4:56
July 4:55
Aug 4:49
Sept 4:49
Oct 4:56
Nov 4:51
Dec 4:48
Do you understand my inferiority complex?
In August, I found myself weighing 230 pounds. This is the way it happens: you wake up one day and realize, "Damn, I weigh 230 pounds, I'm wearing size-38 pants, I can't break 10:00 in the mile, I can't run two miles without stopping, my knees swell, my back hurts, I'm taking blood pressure and cholesterol meds, and I look 65; and it's going to get worse. In the next 20 years, I will gain another 20 pounds and have countless health issues."
"Never slow down, never grow old" – Tom Petty
"Do not go gentle into that good night; Old age should burn and rave at the close of a day; Rage, rage against the dying of the light." – Dylan Thomas
Oddly Robert Zimmerman changed his name to Bob Dylan as a tribute to Dylan Thomas.
I once read that the average American gains an average of one pound per year after age-18. If I'm the average American, I should weigh 180 plus 40 = 220. In August of 2017, I weighed 230. Forget about comparing myself to Jason Crowe, Jeff Purdom, and Andy Derks. I needed to compare myself to people feeding at Golden Corral.
"Rock bottom" is an interesting thing. Several years ago, I read Drunkard: A Hard Drinker's Life by Neil Steinberg of the Chicago Sun Times. Amazing how far people fall before they reach rock bottom. Rock bottom is a metaphor. When you reach rock bottom, you have a firm platform to bounce back.
Bouncing Back
On August 11, 2017, I hit rock bottom. I've always told older athletes that weight is the fountain of youth. Every pro football player gets bigger and slower every year. There's a reason why pros refuse to be timed once they are beyond the NFL Combine. I can give you hundreds of examples of NFL players losing 10-20 pounds and playing 5-10 years younger. Like many teachers, I knew the answers. As Charlie Francis once said, "The personal trainer is the fit one with all the fat clients, the coach is the fat one with the fit clients." I was the fat coach.
I'm not a registered dietitian, but then again, registered dietitians are probably full of shit. I'm forever unimpressed with professionals these days. The experts jumped through a bunch of hoops and paid a fortune to put letters after their name. Many are frauds. My stuff worked for me. I'm not selling it, I'm sharing it. I'm no expert.
I started my journey with a strict diet and zero cheating. I've always joked that people should avoid the four white powders: flour, sugar, cocaine, and heroin. In matter of fact, for four months I've done without flour, sugar, rice, and potatoes (cocaine and heroin, too). By doing away with flour, that means I did not eat bread and pasta and batter-fried foods. Zero for five months. I trashed-out one night over Thanksgiving and ate some cheesecake. That's the only desert I've had since August.
In the past four months, I've sorely missed the #13 at Jersey Mikes and the crust of Giardanos pizza. I've had no fried chicken, no fried fish. Zero.
I drank lots of water and no milk. I've limited Diet Cokes.
In my first month, I would allow myself less than 1000 calories per day of meat, eggs, and yogurt. I ate unlimited fruits and vegetables. At the grocery store, I would buy chicken, turkey, and roast beef. Rotisserie chicken was a weekly event. I ate Egg Beaters (egg whites, 11 grams of protein, only 60 calories) often. I ate only Oikos Triple Zero yogurt (vanilla & chocolate). I usually added Chia seeds to my yogurt.
One of the keys to my plan was to limit alcohol. I used to say I was a runner so that I could eat or drink whatever I wanted. Comes a time when this truth becomes fiction. Raising four kids, with my wife and I both being full-time classroom teachers, was quite a task. At the end of the day, with our four kids in bed, we would celebrate a day well-lived by having a couple beers. What we do on a daily basis becomes what we do on a daily basis. In August, I went two weeks without alcohol all together and then re-introduced it only on non-school nights. At the bare minimum, I went without alcohol four nights per week throughout the fall.
I drank nothing with calories with the exception of Kombucha (and some beer weekends). Kombucha is a low-calorie fermented tea that improves gut health. Kombucha became my beer replacement. My favorite is the Kevita Tangerine and Kevita Pineapple Coconut. Kombucha is expensive but only half as expensive as a craft beer at a restaurant.
I take several supplements. I have no idea which works best or if they work at all. Like so many things in life, we have a hunch that something works and then we experiment. I take 200 mg of magnesium, 480 mg of cod liver oil capsules, 1250 mg of krill oil capsules, one multi-vitamin, 100 mg CoQ10, 500 iu of vitamin D, 400 iu of vitamin E, and turmuric. I have a hunch that everyone should take cod liver oil.
I start every day with lemon water. I originally would liquefy a full lemon in a blender, then strain it, but that takes too much time. Now I simple squeeze the juice of one full lemon into a quart of water and drink it all.
There are times my body craves the things I'm doing without. I've found that eating a handful of almonds will tamp down my cravings.
What's a Typical Day?
♦ Wake up and drink lemon water while watching Morning Joe and checking my Twitter feed
♦ First period chemistry starts at 7:05 – I drink one cup of Peet's Cafe Domingo coffee from a Keurig
♦ 2nd period prep, 8:10 – eggs (or egg whites) and fruit
♦ 3rd through 5th period, chemistry – one liter of cold water
♦ Lunch at 12:40 – meat (chicken, turkey, or roast beef) and a full steamer-bag of mixed vegetables
♦ Snack – apple
♦ End of school at 2:10 – run home (two-mile course) – I didn't coach football this year
♦ Nap
♦ Dinner – rotisserie chicken (sometimes the whole chicken minus the skin), vegetables, and yogurt for desert
♦ Night – Kombucha
What About Restaurants?
♦ Pappadeax (my favorite place) Mahi Mahi Alexander, substitute asparagus for dirty rice
♦ Bulldog Ale House – hamburger without the bun, substitute vegetables for fries
♦ Yen Ching carry-out – beef broccoli, no rice
♦ Panera – full salad and low-calorie soup
♦ Plainfield Delight – scrambled eggs, sausage, and fruit
♦ Hugos – filet mignon and broccoli
♦ McDonalds – grilled chicken salad with balsamic vinaigrette
♦ Traversos – sausage, onion, and extra-cheese pizza, toppings only
♦ Buchos – no chips, ceviche or shrimp cocktail
Workouts?
I try to work out every day. I usually settle for six in seven days. In my worst week, I still worked out five times. My workout is typically a two-mile run. Sometimes I go three miles. Sometimes I run fast, walk, then repeat for 30 minutes. I lift at Lifetime Fitness at least once a week. I try to do as many different things as possible. I do two sets of 135 on the bench, about the same on squats. I finish my workout with a 10-minute elliptical and 10-minute row. I drink a Celsius (orange) before every run, every workout. I have found nothing that enhances workouts like Celsius. I buy them by the 12-pack (subscription from Amazon).
Results?
From my August 11th high point (rock bottom) of 230.2 to my lowest weight on December 13th, I've lost 29.2 pounds. In August I wore size-38 pants that were uncomfortable. Now I have to wear a belt with some of my size-34 pants. I lost an average of 1.4 pounds per week for 16 weeks.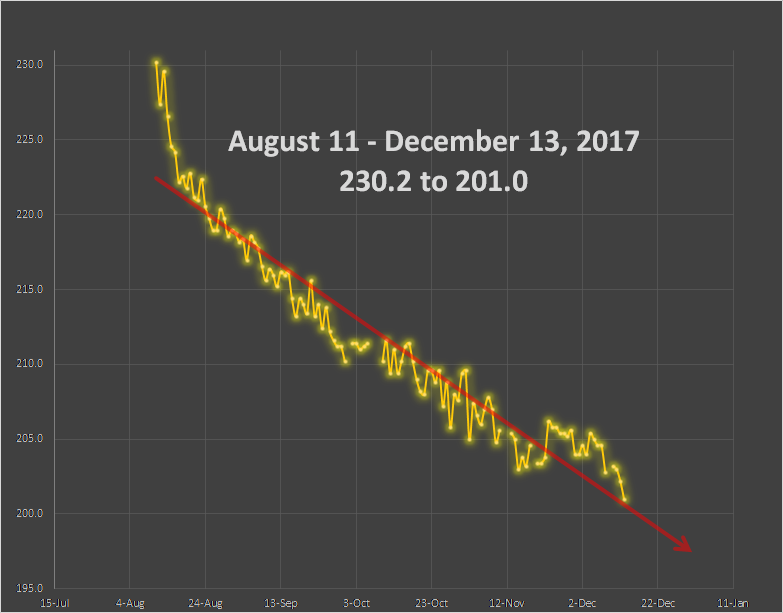 I weighed myself every morning. I actually started my fitness plan on August 13th, so this basically reflects exactly four months of work. The late November spike was Thanksgiving, of course. I survived and will survive Christmas as well. 
As I said earlier, I was pretty slow last summer. My typical mile was a 10:20 followed by a two minute walk, then I'd run home. In October, I thought my pace was getting faster so I decided to time myself. I ran two miles in 17:43 … that's like an 8:53 pace and I wasn't trying to go fast! My run felt easy with no back pain and no swelling in my knees. In a recent workout I ran 16 200's, all in the mid-40s, meaning I'm capable of running a 6:00 minute mile, even though it would hurt like hell.
I've lost nearly 30 pounds and I truly believe my fitness is similar to age-28, meaning I lost 30 pounds AND 30 years.
Onward to 2018
I'm excited to take my newly-discovered youth into 2018. I look forward to long runs at Springbrook Prairie and long bike rides at Waterfall Glen (near Argonne National Laboratory). I expect to continue to eat like I do now. I've not been hungry throughout the entire process. Hopefully in 2018, I will look back at my present self and say "I was so much older then, I'm younger than that now."
Never slow down, never grow old.
Rage, rage against the dying of the light.
+++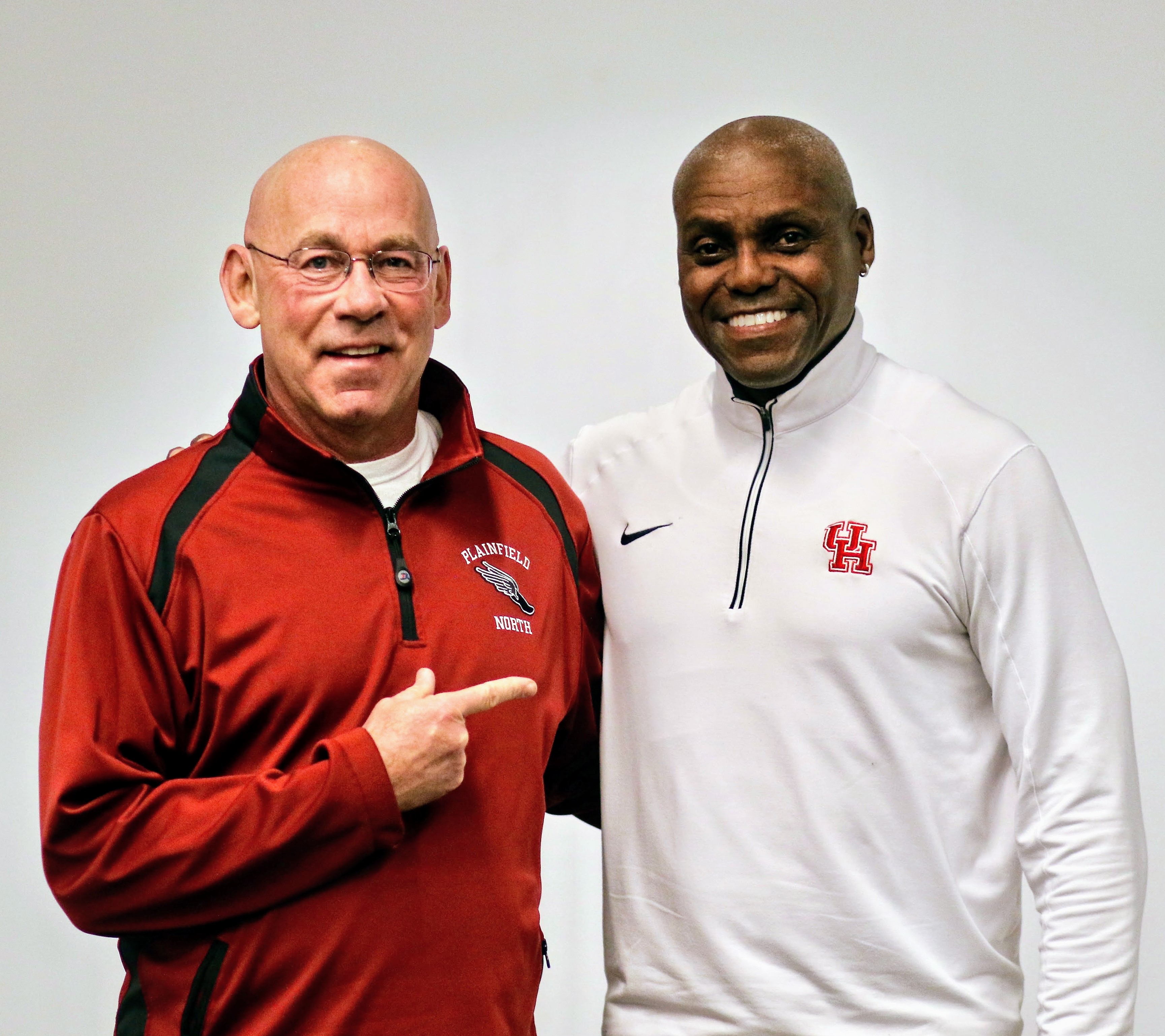 Tony Holler has taught Chemistry and coached track for 37 years at three different high schools, Harrisburg (IL), Franklin (TN), and Plainfield North (IL). Inducted into the ITCCCA Hall of Fame in 2015, Holler's teams have continued to feature great sprinters. Along with Chris Korfist, Holler co-directs the Track Football Consortium held twice a year (June and December). Holler has written over 100 articles promoting the sport of track and field and sharing everything he knows. His articles can be found at ITCCCA.com, FreelapUSA.com, and SimpliFaster.com. You can follow Coach Holler on Twitter @pntrack and email him at tony.holler@yahoo.com.
Don't miss videos from past consortiums! Videos